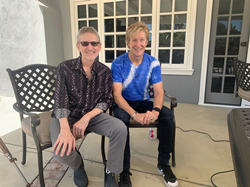 "...we have collected so much of Smooth's art that we're running out of space to hang it. We may eventually need a bigger house." Neal Doughty, REO Speedwagon
SIERRA MADRE, Calif. (PRWEB) December 08, 2022
Steve "Smooth" Summers and Paul Dexter, veterans of live concert rock & roll touring, were on a perpetual tour together since 2005, with REO Speedwagon and became best friends.
But in 2019, a rare, incurable disease, Pulmonary Fibrosis, was discovered. Smooth battled an uncontrollable cough and endured countless trips to medical specialists and agonizing tests. A double lung transplant was the only way he could be saved. Many months of rapidly declining health passed, and fortunately the surgery was successfully performed, notably during the height of the pandemic, April 2020.
Living with recurring pain and a subsequent series of complicated medical issues, Smooth maintained a remarkably positive view of life - a natural inspiration for all his family, friends and associates. Smooth is on the road to recovery, but his touring days are sadly over, as well as his ability to earn income from his life's work. But something amazing happened…
Here's the story. On a flight one day, and before he learned of his diagnosis, Smooth accidentally spilled ink on his journal book. The accident led to a doodle and this serendipity led to a wide-ranging catalog of over 100 distinctive artworks.
Paul Dexter recognized Smooth's art as a way forward for him to grow a business that did not involve an endless string of hotels and extensive travel. To that end, the pair developed a GoFundMe launch in November 2022 with a cohesive business plan. The plan lays out seasonal releases of prints, limited and exclusive editions, a 2023 calendar, greeting cards, a children's illustrated book, casual apparel and a one on one NFT strategy.
The Art Market facts conclude that there has been an increased demand for art since 2021, with a global value of $65.1 billion. The U.S. is leading with the highest share of global art market value. Smoothadelic Arts has potential to take its share with an approach that is original, unique and sought after by his inner circle of musicians, friends and family members. To name a few: REO Speedwagon,Kevin Cronin, Susanna Hoffs, Styx, Loverboy, Triumph, Lucinda Williams, Wilco, Edwin McCain, Cheap Trick's Bun E Carlos, master guitar maker Jol Dantzig and master guitar maker Bill Asher.
Neal Doughty, REO Speedwagon keyboardist and founding member said, "My wife Darya fell in love with "Sad Frankenstein" when it was just a small sketch in Smooth's notebook. Since then, we have collected so much of Smooth's art that we're running out of space to hang it. We may eventually need a bigger house."
News Flash: One of Smooth's most popular pieces, Piano Sonata, has recently been accepted for MusiCares Foundation auction at this year's Grammy "Person of the Year" award ceremony on February 3, honoring Berry Gordy and Smokey Robinson.
And finally, Smoothadelic Arts has collected several signed guitars donated by classic rock artists, to help his business grow. Custom made guitars painted by Smooth will be added to list of assets, signed live concert posters by REO Speedwagon from their 2022 tour and more!
Just in… Julien's Auctions has approved and included Smoothadelic Arts assets for their showcase at the Hard Rock Cafe in Times Square, New York, May 19-21.