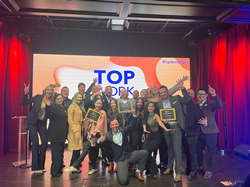 "We recognize that employee satisfaction and customer satisfaction not only go hand in hand, but also build each other up. Because of that, we are constantly working to cultivate a culture that is inclusive, nurturing, and diverse."
SANTA ANA, Calif. (PRWEB) December 13, 2022
Optima Tax Relief, the nation's leading tax resolution firm, has been honored as a 2022 Top Workplace winner by the Orange County Register for the eighth consecutive year. This year the company ranked fourth out of the 17 large company honorees, making them one of only two companies to land in the "Top 5" in a five-year span. Orange County Top Workplaces recognizes U.S. employers that have fostered a people-first company culture.
"At Optima, our success is deeply rooted in our company culture," said Optima CEO David King. "We recognize that employee satisfaction and customer satisfaction not only go hand in hand, but also build each other up. Because of that, we are constantly working to cultivate a culture that is inclusive, nurturing, and diverse."
The list of honorees is based solely on employee feedback gathered through a third-party survey administered by employee engagement technology partner Energage LLC. The confidential survey uniquely measures 15 culture drivers that are critical to the success of any organization, including alignment, execution, and connection, just to name a few.
The Top Workplaces in Orange County award comes just months after Optima Tax Relief was named a Top Workplace USA winner for the second year in a row. The company was also recognized with Culture Excellence Awards in five categories: Leadership, Purpose & Value, Work-Life Flexibility, Innovation, and Compensation & Benefits. Optima was also honored with the "Excellence in Management" award for the last two years.
Optima's Associate Vice President of Human Resources Kimberly Carson credits the company's success to their close-knit staff. "Our best quality is our people," Carson said. "The level of engagement (even in a remote or hybrid environment), teamwork, inclusivity, and drive for excellence every day is exactly why we are such a fun place to work while still delivering the highest quality service to our clients."
An in-person awards program to celebrate the 2022 Orange County Top Workplaces winners took place on Wednesday, December 7th at the Irvine Improv. A complete list of this year's winners can be found on the Top Workplaces website.
About Optima Tax Relief
Optima Tax Relief is the nation's leading tax resolution firm aiding individuals and businesses struggling with unmanageable IRS and state tax debts. Optima's commitment to delivering unparalleled service and results has transformed the tax resolution industry and earned the company numerous honors, including the Torch Award for Ethics from the Better Business Bureau Serving the Pacific Southwest and the Orange County Civic 50. Offering full-service tax resolution and employing over 500 professionals, Optima has resolved over a billion dollars in tax debts for their clients, helping their clients achieve a better financial future by making their tax issues a thing of the past.