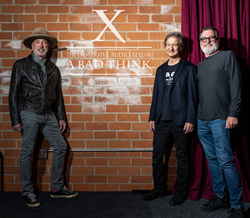 "There is a consistent approach to chord structure throughout the album, as the songs are very melody-driven. I wanted to stick to the old adage, 'three chords and the truth' – I love that concept!" stated Michael Marquart
Los Angeles, California (PRWEB) December 12, 2022
A Bad Think, a musical project led by singer, songwriter, and multi-instrumentalist Michael Marquart, recently released its tenth studio album titled X, which is a beautifully Dolby Atmos®-mastered album consisting of 11 songs of modern progressive rock. X was produced and engineered by GRAMMY®-nominated artist Marquart and multi-GRAMMY-winning producer/engineer Dave Way (Fiona Apple, Echo In The Canyon, Ringo Starr, Michael Jackson, Macy Gray) and recorded at The Barn in Malibu, CA; Waystation Studio in Los Angeles, CA; Cyclops Sound, L.A. (Matt Chamberlain, drums); and Studio Mezzanotte, L.A. (Phil Shenale, keyboards). The album was mixed in both stereo and Dolby Atmos by multi-platinum award-winning producer/engineer Bob Clearmountain (Bruce Springsteen, The Rolling Stones, INXS, Joe Bonamassa, David Bowie, Bryan Adams) and mastered in stereo by multi-GRAMMY winner Bob Ludwig (Led Zeppelin, Queen, Jimi Hendrix) and in Dolby Atmos by multi-GRAMMY winner Brian Lucey (Lizzo, Post Malone, The Greatest Showman soundtrack).
"X is A Bad Think's tenth studio album, and simplicity was a concept that I was returning to," stated Michael Marquart, who wrote all the material on the album. "X is the Roman numeral for ten, and choosing a simple title made sense to me, because most of the songs are very simple. There is a consistent approach to chord structure throughout the album, as the songs are very melody-driven. I wanted to stick to the old adage, 'three chords and the truth' – I love that concept!"
Dave Way has been involved with A Bad Think for the past five albums, including this latest release X. Over the years, Way has developed a strong working relationship with Marquart, with the goal of making Marquart's creative vision a reality. As co-producer/engineer, Way continues to wear a number of hats, including helping to choose the right songs and musicians for the album. Way talks about how he and Marquart chose songs for the album and how they turned demos into tracks: "Michael is a very prolific writer, so he comes to the studio with handfuls of songs each time. We listen and critique each one, and once we're feeling like a particular song might be good for the album, we begin from the ground up with a very basic version – a couple guitar parts and a vocal, maybe some harmonies, and then some basic element like a shaker or drum loop. Then he adds a couple of countermelodies or decorative parts that will happen in the instrumental sections, just to give us an idea of what might go there eventually. Once we have a collection of these bare-bones versions, we're able to pan out and take them all in as a set, and decide which ones to move forward with, based on which songs resonate the most with us and which ones will work together as an album. Some of the bare-bones versions are already polished enough to use as the basis for overdubs, but we tweak them if we need to. Once they're ready for overdubs, we route them to some of the musicians on the project – usually Matt Chamberlain first, as he's the drummer. Matt likes to send 3-4 variations, and we choose the one we like the best. Then it's ready for Whynot Jansveld (bass) and then Kirk Hellie and Rusty Anderson on guitars, and then Phil Shenale on keys, to add their parts. Once we hit the ground running, it's a very quick and straightforward process. As far as vocals, Michael recorded all his at The Barn using a Telefunken ELA M 250E, which we have employed on the last few albums. It works great to capture Michael's voice.
"Unlike A Bad Think's GRAMMY-nominated eighth album The Savior, which was more cinematic in scope with a narrative through-line, the tracks on X present a more impressionistic whole, with the album touching on a range of emotional approaches while cohering into a unified structure. "It's not a concept album, but it's not a compilation of random songs I've written; these songs really go together," commented Marquart. "Dave and I had a lot of songs to choose from for this album. We chose the ones that made sense sonically, and they really work well together.
"When it came time to mix the record, Marquart and Way once again chose Bob Clearmountain, as he has done for the last three A Bad Think records. However, X was the first record Clearmountain mixed in Dolby Atmos for A Bad Think. "Fortunately, we were able to get Bob Clearmountain to do the mix," stated Way. "It is both an honor and a dream come true for me to work with Bob and to have him turn our tracks into glorious music, which is something that he does like nobody else." Way talks about how he preps the tracks before sending to Clearmountain for the final stereo and Dolby Atmos mixes: "I try to just get a balance before I sent the tracks to Bob. I don't add any plugins to the instruments. The only thing that might have a plugin on it is the vocal, and that has some reverb, a small amount of delay, and maybe a little bit of EQ. That's about it. All the other tracks are totally dry. And that's what I send to Bob. I'm really not trying to achieve a mix on my end, as that is Bob's area of expertise!"
"Michael is a brilliant artist, a great songwriter, and a great instrumentalist," stated Bob Clearmountain. "I have enjoyed mixing these records so much because there's so much to them. And the musicianship is just outstanding, with great guitar sounds. And so for this latest album X, as a treat for me, he kind of let me do what I wanted when it came to the mixes and came back to me with very few comments on what I chose to do. Once in a while I might have a question about a particular track or some detail. And then I'll send Dave and Michael a mix and then they will say 'yeah,' or 'what if you turn up the backing vocals in the second chorus?' or something else specific. With 11 tracks there's bound to be some little details in there that they want slightly different – but we work together and get it right.
"When working on X, Clearmountain always started with the stereo mix and then worked on the Atmos mix as a parallel process. "The main mix is always the stereo one, and I'm kind of working on the Atmos mix in the background," stated Clearmountain. "I do both at the same time on my analog SSL desk. And so I'll be doing the stereo, managing the imaging of the left and right channels, and I'll get clear ideas about the Atmos placement, but it is all based on the stereo mix. I am able to work from the routing buses on my desk – I have a whole group of them that I use for the Atmos channel assignment, so I'm basically able to accomplish that while I'm doing the stereo. Michael and Dave give me excellent tracks to work from, and I'm able to lock into a workflow very easily. For example, on this record it was Matt Chamberlain on drums and the tracks were pristine, so for the Atmos mix I was able to start with the normal way I would handle drums in a stereo mix, and then take things like room mics and put them in the back or in the overheads. And it's nice nowadays if you have more than one pair of stereo tracks for the ambience, but there should at least be a stereo pair. Sometimes a client gives me a mono drum ambience mic, which is annoying to me because it doesn't make any sense, as we all have two ears (laughs). And so why would you have ambience in mono? In the real world, ambience is always stereo.
"Clearmountain added, "When working on the mix in Dolby Atmos, there were so many fascinating elements to use, as Michael's music really lends itself to the immersive format. The arrangements were very open with lots of space for me to add effects and reverbs. All these elements together create a feeling of depth and width in stereo, and in Atmos, where it's spread out, it's simply stunning. The mix is very musical, not theatrical."
The album X is available as a Blu-ray and as a high-resolution digital download from immersiveaudioalbum.com, as well as in CD and Blu-ray from the A Bad Think website (http://www.abadthink.com).
About A Bad Think
A Bad Think is a one-man project driven by Michael Marquart, record producer, and multi-instrumentalist who writes and performs all of his tracks with help from the industry's top studio musicians. His latest release, X, is a beautifully Dolby Atmos mastered album consisting of 11 songs of modern progressive rock. Engineered and produced by Marquart with Dave Way (Fiona Apple, Michael Jackson), and mixed by Bob Clearmountain (Bruce Springsteen, Bon Jovi), the album was recorded in Los Angeles and is available as a Blu-ray and as a high-resolution digital download from immersiveaudioalbum.com, as well as in CD and Blu-ray from the A Bad Think website (http://www.abadthink.com).