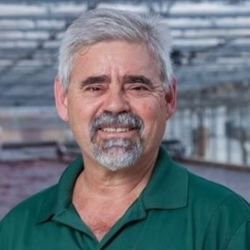 "Miguel's industry experience is unparalleled. We're excited to bring his decades of innovation to this emerging algae species and to the other discovery R&D projects happening at our HQ in Hawai'i. It's an exciting time to be in the seaweed space, and we're ready to make waves."
KAILUA KONA, Hawaii (PRWEB) December 15, 2022
Symbrosia, a Hawai'i-based cleantech startup that uses seaweed to reduce livestock methane emissions, announced the appointment of Miguel Olaizola as Chief Scientific Officer on December 1st, 2022.
Olaizola brings 30+ years of international experience in the algae industry, working on projects in North America, Europe, Alaska, and Hawai'i.
"I am very excited to join the Symbrosia team to work on the algae solution to climate change." said Olaizola, "Reducing emissions of CO2 and methane is one of the best ways to help alleviate the greenhouse effect and combat climate change: algae can help to reduce both."
As Symbrosia continues to scale its commercial operations, Olaizola comes on board to support R&D with product development and experiment design and is especially excited about reducing CO2 within algae production. He says, "Symbrosia's goal is to commercialize the farming and utilization of Asparagopsis algae. Asparagopsis utilizes CO2 to grow and, most significantly, accumulates interesting natural compounds in its biomass. When that biomass is added to commercial cattle feed, those compounds can reduce the ability of the rumen biota to produce methane by over 90%! Commercial development of Asparagopsis will be part of the solution, and I am thrilled to contribute to Symbrosia's efforts."
The Symbrosia team will draw on Olaizola's prior operating experience within the algae industry as they scale production of SeaGraze™, their Asparagopsis taxiformis feed additive, at their facility in Kona, HI.
CEO Alexia Akbay said, "Miguel's industry experience is unparalleled. We're excited to bring his decades of innovation to this emerging algae species and to the other discovery R&D projects happening at our HQ in Hawai'i. It's an exciting time to be in the seaweed space, and we're ready to make waves."
Olaizola received a Ph. D in Biological Oceanography from Stonybrook University, where he conducted ​​research at The Oceanic Institute, HI, and Brookhaven National Laboratory, NY. He currently runs his own consulting firm, OLAS - All Things Algae, LLC.
To learn more about Symbrosia and our ongoing projects, please visit https://symbrosia.co/
About Symbrosia
A recipient of the Blue Climate Initiative's 2022 Ocean Innovation Prize, Symbrosia breeds and cultivates fast-growing seaweed strains and develops them into high-value products. Symbrosia has developed SeaGraze™, a natural seaweed feed additive that drastically reduces livestock methane emissions. Called "the seaweed that could save the planet" by The Verge, Forbes, and Inc Magazine, SeaGraze™ is setting a new standard for sustainability in the US beef, dairy, and apparel industries. Symbrosia is scaling SeaGraze™ production rapidly and partnering with researchers, ranchers, distributors, and brands to build supply chains that reward producers for producing low-methane animal products.