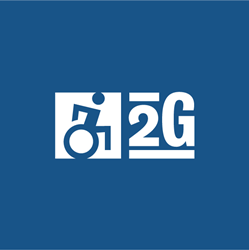 WASHINGTON (PRWEB) December 15, 2022
2Gether-International (2GI), the leading startup accelerator in the nation run by and for entrepreneurs with disabilities, is proud to announce the winner of the 2022 BIPOC Cohort Pitch Competition: Artin Perse, Founder and CEO of Levl, a digital health startup on a mission to de-stigmatize mental health treatments and to empower people to find balance with their mental health. Levl's smart device and app work together to help users correctly take medication, track symptoms, and earn rewards for staying on top of the treatment.
Artin took part in 2Gether-International's BIPOC Tech Cohort Accelerator powered by Comcast NBCUniversal. The Cohort included 11 participants, all Black, Indigenous and people of color (BIPOC) individuals with disabilities and founders of early-stage, high-growth, tech startups, who were immersed in 2GI's 10-week accelerator program designed to develop their businesses further. On December 13, six semi-finalists from the program, selected for their outstanding business foundation and potential, came together for the Cohort's cumulative virtual pitch competition, an opportunity to showcase their businesses and win seed funding. This opportunity was also made possible with support from Comcast NBCUniversal.
The six semi-finalists and their respective companies included:

The pitch competition also featured a panel of industry experts serving as judges including:

Miller Adams, Managing Partner at Pier 70 Ventures
Chris Denson, Award-Winning Innovation Advisor & Consultant
Aston Pierce, Associate at Edison Partners
Deepika Jonnalagadda, Analyst at Blu Ventures
Alana Mann, Partner at Latimer Ventures
Regina Green, Vice President at Goldman Sachs Asset Management
"Congratulations to this incredible cohort of innovators and leader who are setting the precedent for inclusion," said Juan Otero, SVP of Diversity, Equity, and Inclusion at Comcast Corporation. "We have long championed inclusion for individuals with disabilities and through our deepened commitment to digital equity, we imagine a world of unlimited possibilities. That's why we're
proud to partner with 2GI to support pathways to success for so many outstanding visionaries."
Since its launch in 2020, graduates of other 2GI Accelerators have collectively raised over $41 million dollars in funding from investment, revenues and acquisitions. "We're so proud to have worked with all of the trailblazing founders who are not only innovating in their respective industries but also exemplifying how disability can be a competitive advantage for startups all around the world," said Diego Mariscal, Founder, CEO & Chief Disabled Officer of 2GI. "These entrepreneurs are living examples of what overlooked communities can accomplish when they have access to the proper resources and support."
2Gether-International aims to address the employment and entrepreneurship gap for both disability and BIPOC individuals, and help set the stage for visionary founders from these communities to access investment capital. For more information on 2Gether-International and its Accelerator Cohort programs, visit https://2gether-international.org/.
About 2Gether-International (2GI):
2Gether-International is the leading startup accelerator run by and for entrepreneurs with disabilities. 2GI supports high-growth, high-impact startups, led by founders with disabilities. Through this work, 2GI highlights disability as a competitive advantage for businesses. Learn more about 2GI and their accelerator programs here: https://2Gether-international.org/
About Comcast Corporation:
Comcast Corporation (Nasdaq: CMCSA) is a global media and technology company that connects people to moments that matter. We are principally focused on connectivity, aggregation, and streaming with 57 million customer relationships across the United States and Europe. We deliver broadband, wireless, and video through our Xfinity, Comcast Business, and Sky brands; create, distribute, and stream leading entertainment, sports, and news through Universal Filmed Entertainment Group, Universal Studio Group, Sky Studios, the NBC and Telemundo broadcast networks, multiple cable networks, Peacock, NBCUniversal News Group, NBC Sports, Sky News, and Sky Sports; and provide memorable experiences at Universal Parks and Resorts in the United States and Asia. Visit http://www.comcastcorporation.com for more information.