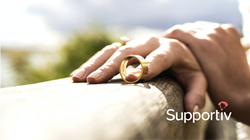 Coping through divorce involves defining and adjusting to a new normal–no small task
BERKELEY, Calif. (PRWEB) December 20, 2022
Supportiv, the pioneer in Conversational Care™ and Precision Peer Support™, publishes today a new collection of articles addressing the distress of divorce. divorce articles, addressing a common yet under-served struggle and its accompanying distress.
Divorce impacts many facets of mental health and can disrupt wellbeing. Whether you are in the process of divorcing or considering it, and are on the initiating or receiving end, divorce shifts the goalposts in your life, confuses your priorities and coping mechanisms, and creates new demands. Supportiv's newly published Divorce article collection speaks to the various ways mental health and divorce interact, and provides strategy to "keep it together" when a marriage falls apart.
The divorce process instigates major emotional adjustments–even for those who welcome the divorce itself. Through all of this, children and extended family may have their own feelings to voice, and divorcing individuals find themselves managing many others' emotions in addition to their own.
Supportiv CEO and Co-Founder Helena Plater-Zyberk speaks to the need for targeted resources in any stage of the divorce process: "The up-ending of one's marriage requires recalibration and planning for a new future. These new resources aim to capture various contexts in which divorce creates emotional challenges, and provide the tools that can calm feelings of overwhelm."
Elaborating on why individuals shouldn't have to go through divorce without support, Supportiv Co-Founder Pouria Mojabi continues: "For those going through divorce, the path forward can feel dreadfully unclear. You might yearn for things to go back to 'normal,' but your status quo is gone. Coping through divorce involves defining and adjusting to a new normal–no small task."
Supportiv's new divorce resources (https://www.supportiv.com/divorce) provide reassurance, inspiration, and options for those considering or actively in the process of divorce. Topics in the collection include:

Virtual Infidelity And Emotional Cheating: Grounds For Divorce?
When You Have A Cheating Spouse, What Can You (Realistically) Do?
Is It Worth Getting Divorced Later In Life?
How To Tell Your Spouse You Want A Divorce
Divorcing A Narcissist: Daunting But Possible
Heartbreak: How To Heal After A Long Term Relationship
Grieving The Loss Of Someone Who Is Still Alive
Surviving The Holidays With Divorced Parents
John Mulaney Models Healing From Divorce With Self Compassion
Divorce Worksheets For Coping And Moving Forward
Find tools to help yourself adjust and strategize, at https://www.supportiv.com/divorce.
In addition to its peer-to-peer support network, relevant Supportiv articles and tips also surface in real-time inside its 24/7 peer support chats. By typing a few words in response to the question: "What's your struggle?" users are matched in under a minute to topic-specific peer-to-peer group chats for anonymous support–from isolation to social exhaustion, from zoning out to overthinking, from divorce to dating, and from panic to apathy. Even experiences regarding identity, microaggressions, and discrimination are up for discussion in Supportiv's anonymous peer support chats.
Supportiv has already enabled over 1.2 million users to feel less lonely, anxious, stressed, misunderstood, and hopeless through its moderator-guided chats with AI-driven content and resource recommendations. See what real users have to say, here: http://www.supportiv.com/users-testimonials.