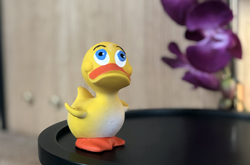 "Rubber duckies capture the whimsey and light-hearted spirit that many travelers bring when visiting Monterey," says Anthony Catania, General Manager of De Anza Inn, "It will be fun to see how guests use their imaginations when taking photos of their ducky around the beautiful Monterey Bay area."
MONTERREY, Calif. (PRWEB) December 30, 2022
De Anza Inn has announced its Rubber Ducky campaign in celebration of National Rubber Ducky Day. This fun-filled event will be hosted by the De Anza Inn from Friday to Sunday, January 13-15, 2023.
All guest rooms occupied on Friday, January 13, will receive one classic rubber ducky, along with instructions on how to participate in the social media aspect of the campaign. "Rubber duckies capture the whimsey and light-hearted spirit that many travelers bring when visiting Monterey," says Anthony Catania, General Manager of De Anza Inn, "It will be fun to see how guests use their imaginations when taking photos of their ducky around the beautiful Monterey Bay area." Guests who would like to participate in the campaign will bring their new rubber ducky around Monterey with them on the days of the event, take photos of their ducky in various places, and then post the photos to the guest's Instagram, Facebook, and/or Twitter accounts and tag #DeAnzaInnDucky. As guests return to the De Anza Inn, they will be rewarded with a small goodie bag of sweet treats from the Monterey Bay area, while one lucky winner, determined by a random drawing, will receive 10,000 Best Western Rewards Points.
About National Rubber Ducky Day
National Rubber Ducky Day is celebrated on January 13 of every year. Originally made from rubber, they are typically yellow in color and can be found in a variety of shapes, sizes, themes, and colors. The rubber ducky first appeared in the late 1800s and didn't even float. They were cast out of solid material and their intended use was as chew toys.
By the 1940s, our little friend had developed into the iconic figure we know today. The rubber ducky became the essential bathtub toy in 1970 after Ernie sang, "Rubber Duckie" to his bath buddy on Sesame Street. The song became a hit and rose to the number 16 spot on the Billboard Hot 100 Chart.
Kids and adults alike love rubber ducks, and collectors display variations of the classic duck in homage to sports teams, holidays, celebrities, and more.
About the De Anza Inn
The BEST WESTERN De Anza Inn was built in 1980 by three local families who wanted something different than what the standard hotels/motels in the Carmel-Monterey area offered to travelers: a three-story hotel with interior corridors (quite uncommon in Monterey) with airy, spacious bedrooms. The modern architecture features bay windows in the guestrooms and a large atrium-like window structure in the lobby, both of which let in plenty of sunlight.
Today the De Anza Inn offers a comfortable retreat for travelers from all over the globe who come to Monterey for everything from conventions to sightseeing, or to the many world-famous events hosted here, such as the Monterey Jazz Festival, the AT&T Pro-Am golf tournament at Pebble Beach, or the Concours d'Elegance celebration of the automobile.
Conveniently located within minutes of all of Monterey Peninsula's major attractions and Carmel-by-the-Sea, the De Anza Inn is the perfect home base from which to do it all, or simply to get away from it all.
For more information on the Best Western De Anza Inn, please visit deanzainn.com​ or connect with us @deanzainn on Instagram and Facebook.
Terms and conditions, along with more rubber ducky images available at: