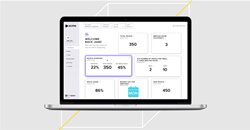 "The Legal department and the Sales team may occupy the same address; but they likely use meeting rooms, collaborative areas and assigned seating in completely different ways, making a one-size-fits-all approach to office design inefficient and impractical" - Matt MacGillivray, Co-founder and VP R&D
TORONTO (PRWEB) February 08, 2022
Corporations gain access to deeper insights – beyond people counting – to optimize their office real estate portfolio
InnerSpace, a space utilization and analytics platform that provides advanced spatial intelligence for companies with large real estate footprints, has released the next generation of its analytics console, inTELLO. The new dashboard offers an improved user experience, heat maps for visualizing utilization data over time, and Sankey diagrams that visualize movement and common pathways through any space. Significantly, this release also introduces filters to discern the movements of unique work teams, providing insight into the specific requirements of different groups sharing the same office.
"Our location intelligence engine goes far beyond people counting, with advanced analysis of movement and flow indoors," said James Wu, Co-founder and CEO InnerSpace. "A proprietary WiFi-based solution enables accurate data capture without requiring additional sensors or hardware to get started. The data can inform important decisions about capacity, furniture, lighting, and layout of offices and workspaces and, ultimately – how much real estate is actually needed."
Corporate real estate teams, occupancy planners, facilities and HR teams rely on InnerSpace data for the complete story of how their indoor space is being used. This information helps guide decisions about design, purpose and portfolio size. InnerSpace is currently working to provide insights that support hybrid workplace transformation projects for clients with healthcare, education, and large office facilities in the US and Canada.
Enhanced Data and Visualization Made Simple
The web-based inTELLO analytics portal presents InnerSpace spatial intelligence data as a series of simple cards presenting answers to common questions about space usage. This at-a-glance simplicity is augmented with detailed charts and graphs that present the full spectrum of historical data for reference over periods of time.
A new dashboard design empowers users to select the metrics most important to them and to export data for their own reporting needs. All graphs and charts in inTELLO are available for CSV download, along with a high-level summary PDF report. They are also accessible via InnerSpace API, alleviating the need for clients to rebuild these metrics from the raw data in-house. All metrics are calculated at the building, floor and zone level, as well as by team.
InTELLO offers these metrics, available only from the InnerSpace solution:

Team-based behaviors
Visitor behaviors (new vs. returning)
Pathway analysis
Visit frequency (limited to WiFi solutions only)
InnerSpace also measures these metrics, while requiring little or no additional sensor hardware:
Space Utilization
Visit counts
Dwell time (with added scope of data)
Meeting room usage
Density
Occupancy
Make Smarter Decisions Beyond metrics presentation, inTELLO provides further comparison analysis and smart recommendations based on the overall dataset, including:
Usage comparison based on capacity, peak and average utilization
Effectiveness of different spaces by type and time of day
Recommendation on underutilized and overutilized spaces
Heat maps for a variety of supported metrics, with time-based playback
From People Counting to Distinct Team Behaviors
The InnerSpace solution uses a proprietary WiFi Location Intelligence Engine to generate more accurate data than traditional WiFi-based space utilization solutions. Using WiFi for this data has multiple advantages, including the ability for clients to continuously reconfigure their floor plans without redeploying expensive sensors. It also combines this data with the ability to analyze and present all available metrics by team or group.
"Deep insight into occupant behavior allows our clients to prove and predict requirements of different teams sharing the same set of resources," said InnerSpace Co-founder and VP R&D Matt MacGillivray. "The Legal department and the Sales team may occupy the same address; but they likely use meeting rooms, collaborative areas and assigned seating in completely different ways, making a one-size-fits-all approach to office design inefficient and impractical."
inTELLO in use
A company's real estate team was notified about the need for a new office space in another state. Before pricing out the project, the team wanted to know whether COVID-19 had changed the way people were using their original office. inTELLO heat maps showed them that over time, the outdoor patio space at their home office had become very popular. As a result, their needs analysis for the second office was updated to include a requirement for substantial outdoor space.
About InnerSpace
InnerSpace is a space utilization and analytics platform that uses proprietary technology and advanced data science to provide location intelligence that goes well beyond people counting. InnerSpace enables its enterprise clients to optimize for their two most valuable resources: people and property. https://innerspace.io/
Download Blueprint for a Hybrid Workspace to learn how our data can empower you to make future-forward decisions about your workplace.