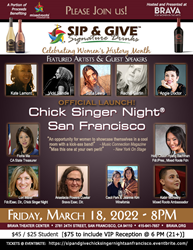 Chick Singer Night offers women the opportunity to experience and expand their musical potential. We encourage women to make music, share that music, and in the end, become a new addition to the music scene
SAN FRANCISCO (PRWEB) March 08, 2022
Mixed Roots Foundation will team up with a group of power women including Chick Singer Night (CSN), an international performance network for female artists, celebrating its 33rd year with the launch of CSN San Francisco. The longest-running songfest for female artists has chapters in 20 cities across the country and abroad. The event serves music communities in Los Angeles, Chicago, New York, Nashville, Boston, Miami, Dallas, Stockholm, Sweden and more.
The newest CSN San Francisco chapter will celebrate Women's History Month on Friday, March 18th presented at the Brava Theater Center in San Francisco, CA, featuring emerging and established local and regional artists. CSN Founder and Executive Director Lori Maier will host the event with featured artists Rachel Garlin, Kate Lamont, Sofia Lewis, Vicki Randle along with special guests.
Special guests include California State Treasurer, Fiona Ma who will provide Welcome Remarks, one of Mixed Roots Foundation's Jr. Ambassadors, Kabir McNeely who will share his long-time involvement with Mixed Roots Foundation and a highlight of community partners who have benefited from Mixed Roots Foundation's work over the past 11 years.
Tickets for the 8pm show are $45 | $25 for students. Tickets for the 6pm VIP Reception (21+) are $75 that include admission to the show plus the SIP & GIVE Wine Tasting experience featuring the inaugural Mixed Roots Wine Collection, vinted and bottled by Cecil Park of Winefornia, the first and only Korean / Asian American female Winemaker in Napa Valley – a portion of proceeds to benefit Mixed Roots Foundation, a charity that raises awareness and funds for the global multicultural adoption and foster care community. For tickets and more information visit https://sipandgivechicksingernightsanfrancisco.eventbrite.com
ABOUT CHICK SINGER NIGHT
Now in its 33rd year and franchised in 20 cities across the country, Chick Singer Night offers performance opportunities to singers of all levels of experience. The format is simple: all female artists are welcome; all styles of music, all levels of experience, everyone. Each artist shows up the afternoon of the show, music in hand, and rehearses her songs with the CSN Band. Later that evening they hit the stage to a packed club and give the performance of a lifetime! Artists who helped CSN celebrate through the years include Norah Jones, Phoebe Snow, Paula Cole, Melissa Manchester, Lari White and Megan Mullally. CSN is a non-profit organization whose goal is to support and encourage women in music. All CSN city directors donate their time and services to organize, promote, and host each show. "All of us do this because we love music and we want to support female artists by creating a space and a stage that is free from competition or criticism," says CSN founder Lori Maier. "Chick Singer Night offers women the opportunity to experience and expand their musical potential. We encourage women to make music, share that music, and in the end, become a new addition to the music scene." Chick Singer Night is headquartered in Thousand Oaks, California. More information on CSN can be found at http://www.chicksingernight.com.
ABOUT BRAVA! THEATER CENTER
Brava! for Women in the Arts celebrates over 30 years as a professional arts organization, and 20 years of owning and operating Brava Theater Center. Brava's recent producing history includes award-winning new work by Rhodessa Jones & Cultural Odyssey, Edris Cooper-Anifowoshe & Black Artists Contemporary Cultural Experience, Marga Gomez, and Lisa Mezzacappa, as well as world premieres by Cherríe Moraga, Marisela Orta, and Lisa Marie Rollins; the Bay Area premieres of Solitude by Evelina Fernandez & Latino Theatre Company, the Off-Broadway hit Mighty Real: A Fabulous Sylvester Musical, the monthly podcast series Indómitas, as well as the annual events Baile en la Calle: The Mural Dances and the San Francisco Son Jarocho Festival. Brava's current artistic programming includes traditional and contemporary music festivals, a variety of film festivals, contemporary and experimental theatrical productions, international comedy shows, lectures, and professional dance productions—making Brava one of the most eclectic and multifaceted arts venues in the Bay Area. To learn more, please visit brava.org.
ABOUT WINEFORNIA
Winefornia, a Napa Valley company, was founded by Viticulturist and Master Winemaker Cecil Park in 2007. Ever the pacesetter, she is the first Korean American Female Winemaker, produced highly rated wines, managed over 80 vineyards throughout Napa and Sonoma Counties, and in 2014 launched her own brand of award winning wines, Innovatus. Not one to rest on her laurels, Cecil set out to grow Winefornia through Consulting, Winery Development and Design, Private Labeling services (for sponsors, corporate events, restaurants) and continues entering Innovatus in Wine Competitions. To keep her focus on the vineyards and what goes into the barrels and bottles, Cecil invited Bay Area Entrepreneur Jeannie Kim, a restaurateur for the past 16 years in SF, to join Winefornia to handle all aspects of the business and the cuisine used for tastings, catering, and wine club events they tastings regularly produce. For more information, please visit http://www.winefornia.com or email at contact@winefornia.com.
ABOUT MIXED ROOTS FOUNDATION
Founded in 2011, Mixed Roots Foundation is a 501(c)(3) nonprofit organization celebrating its 11-Year Anniversary head quartered in Los Angeles, CA with regional offices in San Francisco, CA, Minneapolis, MN and New York, NY and serves as the first and only national / global multicultural foundation for adoptees and their families representative of the international, domestic, and foster care adoption experience and improves the lives of those touched by adoption and foster care by leveraging philanthropy and grassroots fundraising to support important post-adoption resources including mentoring, DNA testing and unique scholarships/grants for adoptees, foster youth and their families. For more info, please visit http://www.mixedrootsfoundation.org, Follow on Facebook, Twitter and Instagram @mixedroots.