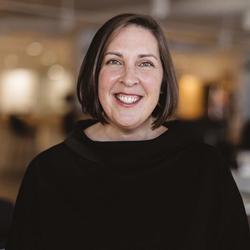 The expansion of Stiling's role will streamline the client delivery and development teams, ensuring efficient collaboration and communication.
MINNEAPOLIS (PRWEB) March 24, 2022
Nerdery, a premier digital product consultancy, announces it has expanded Meghan Stiling's role with the company to Chief Digital & Operating Officer (CDOO). In this expanded role, Stiling will assume responsibility for leading client-facing and delivery operations teams, while continuing to be responsible for defining and driving new technology and strategy capabilities.
Stiling joined Nerdery in 2019 to lead their Emerging Technologies and Architecture teams and was promoted to Chief Digital Officer (CDO) in 2021. Her expertise in cloud engineering, security, data, and technical architecture led to significantly growing those in-demand service offerings.
"We are thrilled to recognize Meghan with this expanded role and create the right structure to allow us to quickly and thoughtfully deliver the digital products that our clients' consumers want," said Nerdery CEO Michael Schmidt. "Meghan is an inspiring force and I consider myself privileged to work with her. Her expertise, leadership and passion positively impact our industry and the Twin Cities business community."
The expansion of Stiling's role will streamline the client delivery and development teams, ensuring efficient collaboration and communication. This hyper-connected, cross functional team will bring agility and speed in support of delivering impactful solutions that drive value to Nerdery's clients and their customers.
In addition to Stiling's proven expertise within tech – working with Fortune 50 companies and Big Four consultancies like Best Buy, Accenture and Deloitte – she also holds a bachelor's degree in engineering from Purdue, a Master of Business Administration degree from the Carlson School of Management, and her Juris Doctor from the William Mitchell College of Law.
Stiling's technology acumen and strategic expertise is valued both at Nerdery and in the many philanthropic efforts that she supports. Stiling perpetuates a culture of mentorship through her leadership involvement with the Carlson School of Management as an alumni board member and as a high-tech judge for the MN Cup competition.
Within the tech industry, a field largely dominated by men, Stiling is steadfast in her work to empower women to become technology leaders. Nerdery has a long history of empowering female leaders in the technology field. Currently 48% of Nerdery's director and above roles are filled by women, and 37% of roles overall are filled by women, both well above national average numbers according to Deloitte.
ABOUT NERDERY
Nerdery is a premier digital product consultancy with depth of experience in technology and engineering, serving clients across a range of industries. Nerdery works alongside its clients to understand their goals and build digital products that transform business, create enduring customer connections and elevate the human experience. Much more than consultants, they are allies for the digital journey — a collection of strategists, designers, technologists and proud "Nerds," who are united around a vision of relentlessly inventing a world that works better for all. Nerdery was founded in 2003 and has offices in Minneapolis, Chicago and Phoenix. Find out more at nerdery.com.