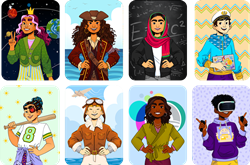 When a top university and noted domestic violence charity came to us to adapt our WellYou program for child survivors of this terrible experience that we share, we knew we needed to find a way to make it happen. One of our advisors had gotten into NFTs and knew we could support our goal with an NFT!
BERLIN (PRWEB) March 30, 2022
With NFTs continuing to gain ground as popular collectibles and online art, wellbeing entrepreneurs Amelia Strzepek and Adam Schuster are excited to drop a line of 10,000 unique NFTs to build the Happy Nation, on March 31 with the pre-sale starting today.
The Happy Nation is a place in real life and the digital space to encourage people to take care of their wellbeing, connect with like-minded people and spread happiness and kindness to others. NFT holders will be eligible to apply for citizenship and a passport - a dynamic NFT - that will be filled with stamps reflecting their accomplishments and engagement as good citizens. Happy Nation has even submitted an application for the United Nation as a member state!
They are kicking it off with their first collection, the Crypto Kids, the building blocks of the Happy Nation. It depicts children engaging in their favorite activities or dressed up as their future dream professions, or as famous and inspiring role models. The NFT art was created by noted German illustrator Karo Becker. Karo's mission is to create colorful, magical, and vibrant art. With her expressive and diverse characters, she has created a unique, playful, and bold digital universe. Karo has previously worked on projects centered around children and their wellbeing, including projects for the Munich Children's Theater.
This NFT collection was developed with the explicit plan to give children recovering from domestic violence access to a well-being program, created together with a prominent university, that will be free of charge and available for any organization that helps children flourish. Additionally, 15% of the primary sales will be donated to several non-profit organizations worldwide that work with children's mental health including DomesticShelters.org and The Army of Survivors.
Both children and adults alike will benefit from this NFT collection. All NFT holders will get a number of perks beyond making a great social impact. They will take part in the mission to make the world a happier place, while also profiting from the project's long-term success. As the project progresses, it will continue to create value and offer exclusive benefits to holders including free access to a wellbeing app, events, and festivals - in real life and in the metaverse. For the full road map, please see https://www.well-you.com/ https://happy-nation.xyz/ as well as the project wiki at https://happynation-nft.notion.site/.
In Happy Nation's metaverse, people can meet and boost their well-being in the many houses dedicated to a specific area of well-being, growth, and learning; for example, the Houses for Art, Books, Fitness, Games, Meditation, Music, Nutrition, Psychology, Yoga, and more.
Giving back to the web3 community is the third and last focus behind the project's utilities. The Happy Nation Fund will support and invest in 1:1 NFT artists and promising NFT projects; the purchased NFTs will be regularly gifted to Happy Nation holders.
Holders will also be able to participate in the governance of the Happy Nation, be eligible to claim future drops for free, and receive royalties of revenue generated from the commercial use of products.
Both Adam & Amelia, the Berlin couple behind the project, were affected by domestic violence as children so they know how damaging this traumatic experience can be. Adam notes, "when a top university and noted domestic violence charity came to us to adapt our WellYou program for child survivors of this terrible experience that we share, we knew we needed to find a way to make it happen." Amelia adds, "Serendipitously one of our advisors had gotten into NFTs and knew we could support our goal with an NFT drop. With Karo on our side, we were off to the races! Now we are so excited to launch this collection that has the potential of bettering the lives of others."
Helpful links and hashtags:
https://happy-nation.xyz/
https://happynation-nft.notion.site/
https://www.youtube.com/watch?v=7Ue06K5wq0U
https://open.spotify.com/episode/3QTS1IC0nAJayh5oKEEGqm?si=TS1Y1hgrRX-0bUhnVuKNpA&nd=1
@ HappyNationNFT
# CryptoKids
#NFTsForSocialGood
@amestrz
@adam_0808
@KaroBecker
discord.gg/happy-nation