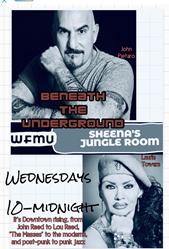 Celebrating the history and legacy of NYC downtown rad arts from John Reed to Lou Reed, "The Masses" to the moderns, and Post-Punk to Punk Jazz
JERSEY CITY, N.J. (PRWEB) April 04, 2022
Joining WFMU's sprightly and provocative 'Sheena's Jungle Room' stream, Beneath the Underground will provide weekly blocks of music, spoken word and talk capturing New York City's avant "downtown". Each Wednesday night at 10pm EST, starting April 20, the show will celebrate the history and living legacy of renegade indie arts "from John Reed to Lou Reed, The Masses to the moderns and Post-Punk to Punk Jazz". There will also be special airings from performance venues, galleries and more. A vital aspect will occur on the last Wednesday of each month when show producer Laurie Towers, publicist, musician and entrepreneur, presents "XX-centric Behavior", a focus on rad women in the arts.
Beneath the Underground's host, John Pietaro, is a writer, spoken word artist and musician whose place within the creative community dates to the 1980s. Columnist and critic of The NYC Jazz Record, he's a contributing arts journalist to PleaseKillMe, The Wire, The Village Sun, AllAboutJazz and others. His most recent work is poetry/fiction collection A Bleeding in Black Leather (Uncollected Press/RAR, 2022). Pietaro is director of the Brecht Lives! Festival occurring this August, Bowery Electric, and hosts Jazz Just After Dark (MakerParkRadio.NYC). For more on Pietaro visit http://JohnPietaro.com
Sheena's Jungle Room is a freeform livestream of independent radio WFMU-FM and WFMU.org. Expect Beneath the Underground to sport a bevy of guest New York musicians, poets, actors, performance artists, painters, dancers and more, with music selections ranging from free jazz to experimental rock, punk to no wave, world music and contemporary composition, modernist to post-post-mod. Special attention will be paid to creatives working in this milieu over the decades, deserving of much greater acclaim.
Beneath the Underground airs Wednesdays 10pm-midnight EST at https://wfmu.org/sheena starting April 20