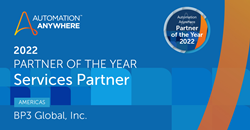 "Partnering with Automation Anywhere gives BP3 the tools to help our clients find a faster way to get things done. Our team is thrilled to be recognized by Automation Anywhere as the Partner of the Year for the Americas. We are privileged to get to work with some amazing clients together,"
AUSTIN, Texas (PRWEB) April 07, 2022
BP3 Global, Inc. today announced that it has been named as the Automation Anywhere Partner of the Year for Service Partner in the Americas. The Global Partner awards were presented at the Automation Anywhere Virtual Partner Summit on March 31, 2022, to recognize partners worldwide for their investments and dedication to providing solutions and services that customers rely on to intelligently automate their businesses.
The Partner of the Year award for Service Partner recognizes BP3 Global, Inc. for driving significant and continual investment in building capability to successfully implement the Automation Anywhere digital workforce platform.
"We are thrilled to recognize BP3 Global, Inc. for its outstanding commitment to customer excellence," said Ben Yerushalmi, senior vice president of Global Alliances and Channels, Automation Anywhere. "As our company accelerates its partner investment and growth in the channel, we look to organizations like BP3 to continue to be a powerful force in bringing new innovations to market that help organizations speed and scale their automation journeys."
"Partnering with Automation Anywhere gives BP3 the tools to help our clients find a faster way to get things done. Our team is thrilled to be recognized by Automation Anywhere as the Partner of the Year for the Americas. We are privileged to get to work with some amazing clients together," observed Scott Francis, CEO of BP3 Global.
ABOUT BP3
BP3 gives people faster ways to get things done. We streamline and automate the processes that drive everything from customer experience to employee productivity. To create more successful and lasting efficiencies BP3 brings more focus, more foresight, and more follow-up to every project. It is how we have achieved an unprecedented 99.9% success rate, and why some of the worlds more respected brands— such as Charter Communications, Keller Williams, and Eli Lilly — rely on BP3.