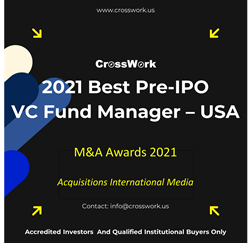 CrossWork's pre-IPO VC fund is selectively expanding its life sciences board. Highly accomplished doctors that serve (or are interested in serving) on corporate boards or who have participated or invested in venture capital can schedule a preliminary call with CrossWork at meetmidas.crosswork.us
NEW YORK (PRWEB) April 19, 2022
While CrossWork is a multi-sector, late-stage, pre-IPO fund with roots in technology sector investing it is building out a significant life sciences investment capability. Because senior medical doctors live and breathe on the cutting edge of life sciences, and often have critical direct patient feedback, CrossWork is making a particularly strong push to add accomplished senior doctors to its advisory board. Highly accomplished / senior doctors that serve (or are interested in serving) on corporate advisory boards or who have participated or invested in the venture capital or pre-IPO spaces can schedule a time to have a preliminary discussion with CrossWork's investment team at meetmidas.crosswork.us
Advisory board members provide strategic insights from a real-world point of view into the financial investments that CrossWork's fund considers. They can exclude themselves, or are excluded from any potentially conflicting discussions. A recent addition to CrossWork's advisory board, Dr. Moti Ramgopal, a medical doctor and senior leader in medicine as well as a senior member of the Cleveland Clinic health system informally provided his first-hand general view of the pace of development of CRISPR gene-editing technologies for the treatment of diseases. These types of unique insights help the CrossWork team shape its thoughts around life sciences sector focus and life sciences investments.
CrossWork provides advisory board members with complimentary equity allocations in some of the companies in which it holds equity stakes. CrossWork takes great care of its advisory board members who include a former CFO of Yahoo, former CEO of Spirit Airlines, a Shark Tank judge and the co-founder of WordPress. Recent speakers at CrossWork Advisory board meetings include Mohan Ananda, the founder of Stamps.com (acquired after reaching $6 billion market value) and Charles Bisgaier, himself an advisory board member, the co-developer of Lipitor - a top-selling drug of all time that reached $13 billion a year in sales at its peak.
CrossWork's fund was recently announced "Best Pre-IPO Fund-US" in connection with the 2021 M&A Awards. CrossWork's Midas Pre-IPO Fund investors and advisors include current and former employees of Facebook, Yahoo, LinkedIn, Morgan Stanley, Goldman Sachs, and other executives. The team is one of the most experienced in the pre-IPO space having participated in IPOs since the 1990s and having been involved in pre-IPO opportunities including Facebook, Twitter, LinkedIn, and many more.
Overall market pre-IPO returns have been strong with the 2020 IPO cohort returning a whopping 117% over approx. 2 years for those companies that were valued at over $1 billion in their last institutional funding round prior to IPO.
According to the publisher of the 2021 M&A Awards "Long-term relationships, innovation, persistence, integrity, optimization, and clear results are all pillars upon which CrossWork.us has been built. Leveraging unique access to, hard-to-access pre-IPO investment opportunities, CrossWork is building a coveted portfolio of companies in a sector that produced market returns of over 117% in the two years ended 2020. Its investors and advisors include numerous high-profile leaders from a broad range of industries. We are hopeful that investment access to a CrossWork fund will not only be reserved exclusively for ultra-high net worth investors and their family offices. According to a Crunchbase article, late-stage investors in pre-IPO unicorns were rewarded with 2020 IPO returns of over 117% over a median time frame of just over 2 years. M&A exit returns were even higher than IPO returns. One of the things that makes CrossWork's Midas fund stand out from other funds, is that it employs powerful risk reduction and return enhancements that cannot be found elsewhere. It runs a mid-stage accelerator and allocates a portion of the stock from accelerator companies on a complimentary basis to Midas fund investors. This increases the fund's return profile significantly while also reducing its risk profile. CrossWork.us stays ahead of its competitors through this and other ground-breaking pre-IPO investment strategies."
About CrossWork
CrossWork.us named "2021 Best Pre-IPO VC Fund Manager – USA". CrossWork manages the CrossWork Midas pre-IPO fund. CrossWork's Midas fund investors and advisors include current and former employees of Facebook, Yahoo, LinkedIn, Morgan Stanley, Goldman Sachs and other successful executives. CrossWork's Midas fund invests in grade A pre-IPO opportunities and employs powerful risk reduction and return enhancements not available in other funds.
Invest In CrossWork's Midas Fund: midasdocs.crosswork.us
Meet With A CrossWork Professional: meetmidas.crosswork.us
A CrossWork Midas investment may only be purchased by accredited investors. Further, past results do not guarantee future results. See risks at https://crosswork.us/risk-factors-disclosures-2/
Important: Investments in private companies are illiquid, carry increased risks and may result in losses. Past results are no guarantee of future performance. Investment strategies referenced herein may not be exactly replicable. No financial advice is provided herein. Please seek financial advice to determine your suitability for the matters herein. This is not an offering document and no offer is made, implied, or may be assumed by virtue thereof. IRA accounts may have fees charged by the IRA custodian. The information herein is for accredited investors, i.e. only those with an annual income over $200k ($300k combined with a spouse) or net worth of $1 million either alone or combined with a spouse. Also includes certain family offices, trusts, entities, and institutions with more than $5 million in assets.
Contacts:
Investor Relations
Las Vegas, Nevada
CrossWork.us
(213) 327-5920
ir@crosswork.us