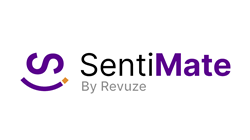 "Sentimate is destined to change the game for product companies committed to improving their customer experience, as well as individual analysts searching for insights on consumer products."
NEW YORK and NETANYA, Israel (PRWEB) April 21, 2022
Revuze, the provider of AI-powered market research for the world's biggest brands, has been nominated in two categories at the inaugural edition of the US Customer Experience Awards, which will culminate in an online ceremony on June 30, 2022. The awards for which Revuze is competing as a finalist are Best Innovation in CX and Best Technology.
Revuze's new solution, Sentimate, is the first-ever free platform that delivers instant access to market research analysis on over 300,000 products. With Sentimate, product companies of all sizes — including small and medium-sized businesses, as well as business individuals — can easily monitor their customers' experiences, identify emerging trends, and perform many research tasks on any product, including SWOT analysis, competitive analysis, and category analysis.
"We are honored to be nominated at the US Customer Experience Awards for these two important categories," said Boaz Grinvald, CEO of Revuze. "With the unprecedented boom in eCommerce that our society is experiencing, finding innovative ways to monitor customer experience has become critical. Brands are on the lookout for new ways to keep up with their market dynamics; our solution, Sentimate, fills one of the big gaps of traditional market research."
"Sentimate is destined to change the game for product companies committed to improving their customer experience, as well as individual analysts searching for insights on consumer products, as it is the first AI-powered tool capable of substituting lengthy and costly research methods, including focus groups," Grinvald continued.
As businesses strive to become more customer centric, it's imperative for them to have the ability to perform research tasks on a daily basis in order to make informed, data-driven business decisions. Sentimate achieves this by always being up to date and accessible at any time.
Sentimate is available now and includes a free tier that provides access to insights into products in over 400 categories. Users who are interested in additional insights, such as category-level analyses and the ability to export ready-made research reports, can upgrade to a paid monthly subscription to take advantage of the solution's full offering at any time.
Other finalists nominated for the awards include IBM, Cisco, Warner Bros, and Samsung. The finalists will compete in an event on June 23, 2022, where they each will deliver a 30-minute presentation; the winners will be announced during an online ceremony on June 30, 2022.
About Revuze
Since 2013, Revuze has been servicing some of the biggest brands in the world with access to automated market research in a matter of hours, instead of months. Revuze's AI-powered solution helps companies in any industry — from electronics to personal care, from home appliances to consumer-packaged goods — perform on a daily basis research tasks that used to take months to complete. Backed by Nielsen, NPD, and SAP, Revuze is headquartered in Netanya, Israel, and has offices in New York, NY, and Montréal, Canada. For more information visit http://www.revuze.it.
For more information and press:
Simone Somekh, Head of Communications
simone.somekh@revuze.it
Social media:
https://www.linkedin.com/company/revuze
https://twitter.com/revuze
https://www.facebook.com/revuze