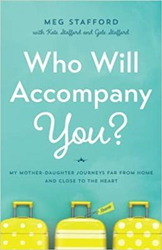 Generous, insightful, and deeply funny, award-winning memoirist Meg Stafford is the ideal tour guide for a journey as big as the world and as intimate as the human heart.
BOSTON (PRWEB) April 27, 2022
Accomplished author, psychotherapist, executive coach and newspaper columnist, Meg Stafford, announces the public release of her second book: Who Will Accompany You? My Mother-Daughter Journeys Far from Home and Close to the Heart. Award-winning memoirist Meg Stafford has an adventurous spirit, and this time she takes us along for the ride. When her daughters venture into terra incognita – one of them meditating in the Himalayas and the other providing unarmed protection in the Colombian countryside – Stafford decides to go too. In the process, she reflects on her own lifetime of wanderlust and what it means for a parent to love and let go. Generous, insightful, and deeply funny, Stafford is the ideal tour guide for a journey as big as the world and as intimate as the human heart.
Readers are afforded perspectives from both daughters, giving readers a three dimensional look at Nepal, Bhutan and Colombia, as well as what it's like to negotiate relationships between parent and young adult. This heart warming book earned early praise and is now available in select bookstores north of Boston, and online at major retailers, including Amazon.
"My hope is that readers will see a bit of themselves, and new possibilities, in these pages. For young adventurers, I hope our experiences fan your enthusiasm and remind you that there is so much to discover and embrace. For parents, I hope our reflections help you know that you can be the air under your children's wings -- even when clipping those wings might feel like the safer course of action," said Meg Stafford. "Our travels highlighted that parent/child relationships don't end, but they do change shape over time. It was enlightening to reflect upon that gradual transition throughout the pages of the book."
Stafford's first memoir, Topic of Cancer: Riding the Waves of the Big C, won six literary awards including being named Best First Book by the IBPA's Benjamin Franklin Awards. Since first appearing on Amazon, Who Will Accompany You? is earning early accolades as well and has become an "Instant #1 New Release in Travelogues and Travel Essays," as well as an "Amazon Bestseller in Family Travel Guides, Family Travel, and Parenting Teenagers."
"With Who Will Accompany You?, her second memoir, Meg Stafford illuminates how there may be no greater test in parenting than trekking around the globe with your adult daughters. While she will always be Mom, this is a delightful masterclass in auditioning one another as adult fellow travelers," commented Mark Gianino, PhD, MSW, Clinical Associate Professor, Boston University School of Social Work. "The voices of Meg, Kate, and Gale are distinct, while their love, humor, and trust are the bungee cords holding these three together, supple and strong. A humor filled and colorful triumph!"
Who Will Accompany You? is now available at Valley Wild Books (Littleton, MA), The Silver Unicorn Bookstore (Acton, MA), Lala Books (Lowell, MA) and all major online retailers, just in time for purchase for Mother's Day. A book launch party will take place on Saturday, April 30 from 12:00-3:00pm at Valley Wild Books, followed by additional book readings, signings, and author visits on Tuesday, May 3 at 7pm at The Silver Unicorn, Wednesday, May 4 at 7pm at Reuben Hoar Public Library (Littleton, MA), and Wednesday, May 11 at 6:30pm at Lala Books.
To reach Meg Stafford for media inquiries, author visits or speaking engagements, contact: Meg Stafford via phone (978) 501-2659 or email megstaf@aim.com.
About Meg Stafford
Meg Stafford is a writer who loves exploration of all kinds. Her 2011 memoir, Topic of Cancer: Riding the Waves of the Big C, won six literary awards for its engrossing and hilarious portrayal of surviving and thriving after a life-altering diagnosis of breast cancer. For twenty-five years she has been observing how small, remarkable moments enrich our lives in her monthly newspaper column, "A Moment's Notice." As a social worker in private practice, she's been helping others negotiate the terrain of relationships and connections for over thirty-five years. For more information, visit http://www.megstafford.com.