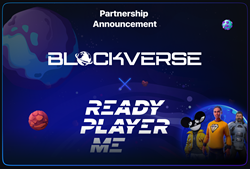 We can't wait to see Blockverse users creating avatars using our platform.
WEST HOLLYWOOD, Calif. (PRWEB) April 28, 2022
Erik Daniel Garcia, CEO of Blockverse, announced the company has partnered with cross-platform avatar provider Ready Player Me. The popular avatar platform allows users to generate and customize a 3D avatar from a selfie. Garcia said the decision to partner with Ready Player Me will "allow for an easy onboarding process for new users."
Existing Ready Player Me users can import previously created avatars, and new users can quickly and easily create new ones. Blockverse allows users to access Ready Player Me's import and creation tools right through the Blockverse website. New users generate an initial avatar from a selfie and then adjust attributes like skin tone, eye shape, eye color, hairstyles, facial hair, clothing, and more. Avatars created for Blockverse may be used with over two thousand other apps and games that already integrate with Ready Player Me.
Ready Player Me's website states the company's tech is "built using a proprietary database of 20,000 realistic face scans, all captured with our own professional 3D scanners."
"We love the avatar creation process and customization options available through Ready Player Me," said Garcia. "It's super quick, super fun, and super cool," he said.
According to Garcia, partnering with Ready Player Me will allow Blockverse to "leverage an already successful asset while freeing up resources for other aspects of our product development."
Garcia said the partnership is "non-exclusive." He referenced the Blockverse whitepaper, which states, "Long term, Blockverse plans to release its own series of avatars and open up further partnership opportunities with other popular avatar creators."
Ready Player Me's CEO Timmu Tõke, said, "We are excited to add Blockverse to the expansive network of over 2,000+ partners who are integrating Ready Player Me avatars into their apps and games. We can't wait to see Blockverse users creating avatars using our platform."
Today's partnership announcement comes after Garcia declared earlier this year the intention for Blockverse to create the "largest metaverse on blockchain."
Follow @bv_metaverse on Twitter and join the Blockverse Discord server to stay up to date on all future developments.