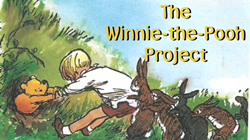 "We are producing both a full-length video and audiobook with audio description of the pictures for children who are blind or low vision and captions and sign language for children who are deaf or have hearing challenges."Richard Rieman, Founder and CEO, Imagination Videobooks
DENVER (PRWEB) May 03, 2022
"The Winnie-the-Pooh Project" advocated for Kickstarter's new ALT TEXT feature, and it will be the first Kickstarter project ever to use it. Crowdfunding project creators can now have full image descriptions for blind and low vision visitors. Kickstarter has always had the option to add captions, but not alt text.
THE DIFFERENCE
This is how having alt text helps blind readers using screen readers to read a page out loud
Caption: Making Winnie-the-Pooh Accessible to blind and deaf children
Alt Text: Images of Pooh as he floats under a blue balloon next to bees, Piglet walks with a big heart in his hands, and Pooh steadies Piglet as he reaches for a prickly pear in a pear tree. The words are "Making Winnie-the-Pooh Accessible to Blind and Deaf Children."
The Pooh Project is raising money to make the original 1926 Winnie-the-Pooh book FULLY ACCESSIBLE to blind and deaf children. Project Creator Richard Rieman and his Kickstarter Consultant, Lisa Ferland, reached out to Kickstarter's Director of Publishing, who replied that the alt text feature has been in development and the Winnie-the-Pooh Project will be the first campaign to include it.
Richard says, "We are producing both a full-length video and audiobook with audio description of the pictures for children who are blind or low vision and captions and sign language for children who are deaf or have hearing challenges."
"Pooh is the perfect project for us because the characters all have their differences and are still very lovable. It is very special that half of our cast members are voice actors who are themselves blind or low vision," says Richard, who is the Founder and CEO of Imagination Videobooks, which has made over 100 children's picture books accessible to all children.
About the Winnie-the-Pooh Project
"The Winnie-the-Pooh Project" is one of Kickstarter's "Projects We Love." All Pooh lovers now have the chance to help create a full-length Winnie-the-Pooh video and audiobook that is described, captioned, and signed with American Sign Language interpretation on-screen.
About Richard Rieman, Project Creator
Richard Rieman, "The Audiobook Wizard," is Founder and CEO of Imagination Videobooks and an acclaimed authority on audio and video self-publishing. He has narrated and produced hundreds of Indie-published audiobooks. He is the author of the Global eBook Awards Gold Medal Winner in Writing/Publishing, "The Author's Guide to Audiobook Creation."
About Kickstarter
Kickstarter is an American public benefit corporation based in Brooklyn, New York, that maintains a global crowdfunding platform focused on creativity. The company's stated mission is to "help bring creative projects to life".
Key Links

For more information:
Contact Richard Rieman at Richard@ImaginationVideobooks.org or 720-507-5970