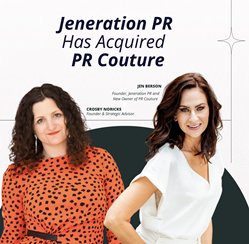 We are honored and excited to leverage Jeneration Academy resources to serve the PR Couture community with our top-notch digital platform and mentorship programs. Jen Berson, Founder, Jeneration PR
LOS ANGELES (PRWEB) May 05, 2022
Award-winning, woman-owned communications firm, Jeneration PR, LLC--which includes educational content platform Jeneration Academy and the Profitable PR Pros online community--has acquired PR Couture, a woman-owned digital hub dedicated to educational advancement and growth of PR professionals, for an undisclosed amount.
Founded in 2006 by Crosby Noricks, PR Couture facilitates career growth and provides industry connections for thousands of public relations practitioners. By championing the value of information-sharing, providing access to experts, and fostering community in an industry notoriously tight-lipped about its inner workings, Noricks is a fresh voice for aspiring PR professionals.
With a similar mission, lawyer-turned-award-winning publicist and mentor, Jennifer Berson, saw a need to help PR professionals increase the profitability of their businesses and gain personal and professional freedom and fulfillment by creating their own PR agencies.
"For 15 years, PR Couture has led professional development in the PR world by creating a much-needed space for practitioners to share trade tips, challenges and opportunities in a cooperative environment," said Jennifer Berson, Founder and CEO of Jeneration PR. "We are honored and excited to leverage Jeneration Academy resources to serve the PR Couture community with our top-notch digital platform and mentorship programs."
Berson was recently recognized as "Public Relations Mentor of the Year" by both PR Daily and the Stevie Awards, a nod to her Jeneration Academy platform, which provides educational training, coaching and community to entrepreneurs seeking to scale their own profitable PR agencies. Her signature program, The Agency Accelerator, has served thousands of independent PR firms in 23 countries, while her media relations-focused membership program, The Pitch Lab, has quickly become an invaluable resource helping PR professionals at all levels secure press coverage for clients.
Merging these two leading educational resources under the Jeneration PR umbrella cements the firm as one of few online educational platforms with the breadth and depth of resources, capital and operational talent to successfully provide practical, actionable training to savvy digital marketing and communications professionals from around the world.
This timely acquisition provides a career path for industry professionals seeking alternatives to "traditional" work environments and mundane corporate roles, a shift accelerated by the "Great Resignation," that has also fueled a growing number of successful independent PR practices. Jeneration's expanded offerings will provide home-based communications and marketing entrepreneurs with tools and knowledge to thrive in the fast-paced and ever-evolving PR industry.
"Jennifer's incredible track record of building her own award-winning, highly profitable agency while remaining involved in day-to-day operations ensures her programs reflect what's working right now, and what PR professionals need to operate at the top of their game," shared Noricks. "I am thrilled to have found the perfect partner to steward the continued evolution of PR Couture."
About Jeneration PR, LLC
Founded by Jennifer Berson in 2005, Jeneration PR is an award-winning Public Relations & Social Media Marketing firm specializing in promoting beauty, baby & lifestyle brands. Jeneration Academy, recently recognized by Inc.'s prestigious Best in Business award, was created in 2018 as a professional development platform for PR-focused entrepreneurs. The Pitch Lab and Agency Accelerator programs provide communications professionals with a proven framework for executing strategies that convert into massive media placements for their clients as they learn how to launch, grow and scale profitable PR and marketing agencies.
About PR Couture
Founded by Crosby Noricks in 2006, PR Couture educates, inspires, and celebrates forward-thinking communication professionals with a focus on practitioner excellence and industry thought leadership. Well-recognized for putting public relations on the digital map, agency teams, independent publicists, in-house brand managers, and emerging/aspiring professionals rely on PR Couture for fresh insight into leading strategies, growth opportunities, and a warm, welcoming community.