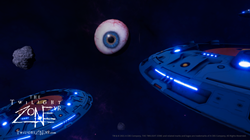 "Whether you're a horror fan, a sci-fi fan or simply love a good mystery, we have something in The Twilight Zone VR for you." said Douglas Nabors, Fun Train's CEO.
LOS ANGELES (PRWEB) May 12, 2022
Fun Train is proud to announce the initial season of The Twilight Zone VR will launch on the Meta Store for Quest 2 headsets on July 14th.
Based on the award-winning television anthology of the same name, the game features concepts created by veteran Rob Yescomb (The Invisible Hours, Rime, Farpoint, The Division), screenwriter Dwayne Alexander Smith (Netflix's Forty Acres) and is being developed by UK based Pocket Money Games – most notably responsible for adapting Superhot for the Meta Quest. The title is licensed from ViacomCBS and is financed by Fun Train.
The Twilight Zone is a revered media franchise based on the anthology television series created by Rod Serling. The game will feature three unique stories at launch and span multiple genres ranging from technological horror to apocalyptic science fiction. The initial stories are as follows:

"Character Building" - A video game director discovers that workplace cruelty is a dangerous game.
"Terror Firma" - After an environmental apocalypse, one survivor must face mysterious phantoms as he searches the city ruins for a glimmer of Hope.
"Deadline Earth" - The clock is ticking for a science fiction writer who finds himself captive on an insidious alien vessel.
"Whether you're a horror fan, a sci-fi fan or simply love a good mystery, we have something in this game for you," said Douglas Nabors, Fun Train's CEO. "It was important to us to design each of these individual stories with as much variety as possible while also staying true to the heart of The Twilight Zone. We can't wait to watch players experience this anthology of science fiction adventures firsthand. The worlds that the development team has built to achieve this vision are nothing short of surreal."
"With Meta's support we were able to utilize Asynchronous Space Warp (ASW) at a very early stage which has allowed us to push the graphical and performance boundaries of what is possible on Quest 2," said Frankie Cavanagh of Pocket Money Games. "Everything from subliminal messaging to haptic vests have been integrated into this game."
More information and behind-the-scenes content can be found in the game's press kit at https://bit.ly/TZpresskit or on the game's website at http://www.TwilightZoneVR.com.
Fun Train is a games company that recognizes virtual reality and the metaverse as the next great frontier in entertainment. The company has released a robust slate of Meta Quest titles including The Exorcist: Legion VR, developed by Wolf & Wood (The Last Worker), and Tarzan VRtm which was developed by Stonepunk Studios with additional development by VRMonkey. The company has several additional titles underway including a sequel to The Exorcist as well as an original multiplayer property.
CONTACT INFORMATION
Fun Train Inc. http://www.FunTrainVR.com
LEGAL
TM & © 2022 A CBS Company. THE TWILIGHT ZONE and related marks and logos are trademarks of A CBS Company. All Rights Reserved.
"The Twilight Zone" theme song courtesy of Sony/ATV