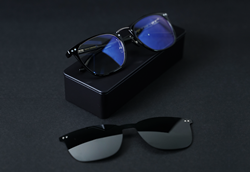 The laser pointer going through the lens advertisement does look cool, but what you should find out before purchasing blue-light glasses is the wavelength of light the lenses protect you from - Zev, Founder of Derive Collection.
LONDON (PRWEB) May 19, 2022
Derive Collection, a company developing products for digital nomads and light travelers, has announced the launch of its newest product, VEER. The hybrid smart glasses are designed to be both blue light filter glasses and luxury polarized sunglasses. With a sleek design and high-quality materials, VEER glasses are perfect for anyone who wants to protect their eyes from the sun's harmful rays and reduce eye fatigue from extended screen time.
Backed by a team of eyewear experts, Derive Collection is looking to bring VEER to market with the help of Kickstarter backers. The goal was to create a product that would offer the best of both worlds, protecting harmful blue light while also providing superior visual clarity and style.
The Veer Bluelight filter is designed to help reduce eye strain and improve sleep quality. The filter features a next-gen Bluelight coating that offers 60% blockage in the 410-450nm HEV (High Energy Visible) zone and 30% blockage in the 450-480nm sleep cycle zone. Most of the clear lenses on the market only provide 30-45% blockage for 410-450nm. Standard optical lenses with blue light coating offer only 15-25%.
VEER's blue light lens provides 99% UV protection, helps reduce eye fatigue, and aids in sleep without color distortion. And because the lens is also polarized, it helps reduce reflection from lake and river surfaces or those from a windshield. Each pair of glasses comes with a TAC polarized magnetic clip-on to switch lenses from blue light filtering to fashionable, luxury sunglasses. The clip comes in three color options, amber/brown, green, and gray.
VEER's frame is not only strong and durable but also environmentally friendly. Ultem is a material that is not only eco-friendly but also FDA-approved. It is known for its high stability and heat resistance, making it ideal for aircraft frames. In addition to its strength and flexibility, Ultem is also lightweight, making it perfect for Veer's frame. Because the frame only weighs 12g, it is unlikely to break even when sat on.
The frame of the VEER glasses is designed to follow the contours of the head for a comfortable, secure fit. The nose pads are adjustable and made from titanium for durability. The nose pad and temple points work together to balance the glasses at the ideal eye level.
For more information about these revolutionary new glasses and to support the Kickstarter campaign, visit https://www.kickstarter.com/projects/zevlim24/veer-redefining-eye-protection-2in1-luxury-smart-glasses?ref=3g2gad&token=26bc326b