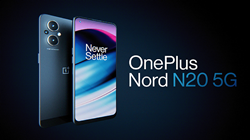 "I look for a partner that can deliver best-in-class experiences and that's exactly what Transparent House does. With its experience in CG, photography, and Web3, TH has played a key role in shaping our creative process for several of our product launches."
SAN FRANCISCO and BERLIN (PRWEB) May 12, 2022
To support the launch of the highly anticipated OnePlus Nord N20 5G smartphone, the brand's U.S.-based marketing team reached out directly to creative production agency Transparent House. Based on a solid working relationship that spans several high-profile marketing engagements in recent history, Transparent House was commissioned to apply its signature CGI expertise in the creation of a captivating launch video for the OnePlus Nord N20 5G smartphone, showcasing its key features in cutting-edge style. Video: https://vimeo.com/704743004
"I look for a partner that can deliver best-in-class experiences and that's exactly what Transparent House does," said OnePlus Creative Director Carlos Zúñiga. "With its experience in CG, photography, and Web3, TH has played a key role in shaping our creative process for several of our product launches."
For the Transparent House team, it was another opportunity to create a unique technological journey through this brand's patent smartphone universe, using sharp, bold visuals, and epitomizing 5G speed and performance. The narrative is accompanied by a custom soundtrack scored specifically for this project.
Also tasked with delivering key marketing visuals and lifestyle photography to be used extensively in the launch campaign, custom Transparent House deliverables included over 60 different assets.
Driven by Transparent House creative elements, this campaign is now live on the brand's internal sites, throughout its social media accounts, and in other strategic promotional facets including the brand's ecommerce marketing sets.
Well known for its photorealistic CG artistry, Transparent House is often trusted to produce premium original photography and live-action video for its clients. In these engagements, the group takes great pride in mastering all production details, from casting and location scouting to complete post-production finishing services.
The photoshoot for the OnePlus Nord N20 5G took place in Downtown Los Angeles on December 12, 2021. The results include dozens of hero photographs that will continue to play out in campaign promotions to come.
For Transparent House, credit goes to executive producer Denis Krylov, head of production Michael Shatilov, and line producer and Eugene Telegin. Photography was handled by Dmitry Bocharov through Transparent House, which also provided sound design and music.
Follow OnePlus on social media for all the latest news. To learn more about the OnePlus Nord N20 5G, visit https://www.oneplus.com/n20-5g.
About Transparent House
With offices in San Francisco and Berlin, Transparent House is an international creative production agency specializing in the full-service creation of extraordinary, photorealistic CGI storytelling, and in developing cutting-edge original Extended Reality content helping pioneering brands strategically master the Metaverse. With deep roots in design, architecture, 3D CGI, and flawless finishing, Transparent House is a premium provider of innovative and disruptive solutions optimized for product marketing, retail, and beyond. To learn more, visit http://transparenthouse.com.
About OnePlus
OnePlus is a global mobile technology brand challenging conventional concepts of technology. Created around the "Never Settle" mantra, OnePlus creates exquisitely designed devices with premium build quality and high-performance hardware. OnePlus thrives on cultivating strong bonds and growing together with its community of users and fans. For more information, please visit https://www.OnePlus.com.