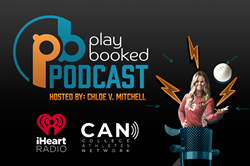 "I am consistently impressed by the incredible capability and ingenuity of student-athletes! It's exciting to see this bright community of young athlete-preneurs emerge and promising to learn about the wide variety of creativity and ambition in the NIL space." -Chloe V. Mitchell
GRAND RAPIDS, Mich. (PRWEB) May 12, 2022
PlayBooked, a web platform/mobile app designed to help collegiate athletes monetize their years in college sports, launches the PlayBooked Podcast, a new digital radio show on iHeart Radio's new College Athletes Network.
The PlayBooked Podcast is hosted and edited by Chloe V. Mitchell, 20, a collegiate volleyball player and businesswoman. A nationally renowned TikTok influencer with 2.7 million followers, Chloe made national headlines and sports history in 2020 when she became the first collegiate athlete to legally monetize her name, image, and likeness (NIL). After pioneering the trail for others, she partnered with her father—a former football player at the University of Michigan—and co-founded the PlayBooked App to help student-athletes do the same, but with ease.
Chloe has combed the collegiate landscape to find fellow athlete-preneurs with whom she can connect, collaborate, champion, and conquer the chal­lenges they all experience while navigating the new NIL landscape. In each episode, she dives into each of her guests' experiences so she can provide her listeners with a real-life tactical playbook for NIL success.
"I am consistently impressed by the incredible capability and ingenuity of student-athletes!" Mitchell says of her podcast guests. "It's exciting to see this bright community of young athlete-preneurs emerge and promising to learn about the wide variety of creativity and ambition in the NIL space."
The PlayBooked Podcast will roll out weekly episodes for the next ten weeks. The starting guest line-up includes; Princeton soccer player Lexi Hill, Auburn gymnast Derrian Gobourne, Stanford track teammates Dorian James and James Stevens, Duke football player J'Marick Woods, and Duke track athlete Emily Cole. Follow PlayBooked Podcast on iHeart to get episode alerts.
"My takeaway after interviewing so many talented college athletes, is that there is no one-size-fits-all template for how to leverage your NIL and make money as a student-athlete," shares Mitchell, who is an admitted outlier in the space. "It's about, #1, finding trusted partners like the PlayBooked app to walk you through it and, #2, deciding how much time and effort you can and will invest. There are many ways to do that, for athletes of all levels, and listeners can be a fly on the wall as my show guests share details about their own avenues of revenue and creativity."
To learn more about the podcast, go to https://playbooked.com/playbooked-podcast/.
To connect with Chloe, book her for a shout out, video chat, or endorsement on the PlayBooked APP at http://playbooked.me/ChloeVMitchell
About PlayBooked
PlayBooked is a web platform/app that connects college athletes with fans and brands. Founded in 2020, PlayBooked's digital marketplace empowers student-athletes to monetize their NIL by accepting booking requests to create content. Booking opportunities range from producing branded content, live video chats, and video shoutouts. PlayBooked for Business custom curates initiatives for multi-athlete brand marketing campaigns and special events. For more information, or to create a free account as a fan, brand, or college athlete, visit PlayBooked.com or download the PlayBooked app.
​​About iHeartMedia
iHeartMedia, Inc. [Nasdaq: IHRT] is the leading audio media company in America, reaching over 90% of Americans every month. iHeart's broadcast radio assets alone have more consumer reach in the U.S. than any other media outlet; twice the reach of the next largest broadcast radio company; and over four times the ad-enabled reach of the largest digital only audio service. iHeart is the largest podcast publisher according to Podtrac, with more downloads than the next four podcast publishers combined and has the number one social footprint among audio players, with seven times more followers than the next audio media brand, and the only fully integrated audio ad tech solution across broadcast, streaming and podcasts. The company continues to leverage its strong audience connection and unparalleled consumer reach to build new platforms, products and services.
About College Athletes Network
College Athletes Network was co-founded by Ron Pivo and Brett Martzke. Pivo is a 30-year veteran in the sports broadcasting industry having worked most recently at KGW-TV in Portland, Oregon and as well as a fill-in anchor at KNBC in Los Angeles. Martzke has over 25 years of experience in sports broadcasting, working as a producer for the Golf Channel, CNN/Sports Illustrated, Fox Sports and NBC Sports. Together they will deliver content that will entertain and inform college sports fans, and to give enterprising college athletes an avenue to increase visibility for their own platform. Podcasts across The College Athletes Network are distributed by the iHeartPodcast Network.