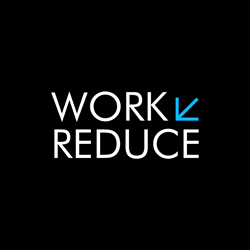 "We're so pumped to have Tim and Amelia join the team," said WorkReduce Founder and CEO Brian Dolan. "They're both so passionate about our core values around creating an inclusive, flexible working environment. And with the growth we're experiencing, we need the help!"
BOSTON (PRWEB) May 17, 2022
WorkReduce Inc, a data-driven platform for marketing staff augmentation and services, today announced that Dr. Timothy L. Brown has joined the company as its new Director of People and Culture and Amelia Tran has joined as Senior Director of Marketing.
Dr. Brown brings over 11 years of experience in Human Resource operations. Most recently, he led the Employee Experience efforts for Cape Fear Valley Health which focused on building a culture of engagement. Dr. Brown is also known for building the employee Health Coaching Program at Atrium Health – which in 2017, led to a $17.3 million cost savings through his development of a modifiable health behaviors program for their 70,000-employee population. Dr. Brown is the President of the Greater Charlotte Healthcare Executives Group (GCHEG) – an affiliate group of the American College of Healthcare Executives where he leads over 650 members. He is also an Adjunct Professor with Belmont Abbey College in the Master of Healthcare Administration program and teaches Human Resource Management and Quantitative Analysis.
"I am excited to join a team that operates on the same principles I have always upheld," said Dr. Brown. "WorkReduce's core values are aligned with my own life-long motto: build trust and confidence through transparent communication, positive relationships, consistency, and a listening ear – that's how we positively influence the experience of the employees we serve."
Fully virtual since its founding in 2014, WorkReduce was founded on the belief that flexibility, inclusivity, remote work and training are all a baseline for attracting and retaining talent. WorkReduce has always used blind hiring to eliminate bias - resulting in a diverse team that is majority over 35 years old, 63 percent female and 50 percent BIPOC. In his new role, Dr. Brown will be responsible for cultivating WorkReduce's team culture and engagement efforts as well as recruitment and DEI initiatives, as The Great Resignation has driven exponential growth and global demand for WorkReduce's offering.
As Senior Director of Marketing, Tran will be focused on shaping the company's voice among brands, agencies and platforms to provide the best-in-class expert talent solutions and attract the ad industry's top talent to be a part of a flexible, innovative, remote workforce.
Tran brings more than eleven years of experience collaborating with brands including Google, Shell, Bayer, and L'Oreal, embedding herself as an extension of her clients' marketing teams to oversee go-to-market launches, rebrand projects, and digital marketing plans through social media, paid advertising, campaign development, live and virtual activations, and email marketing. After a decade-long career on the agency side at WPP, Omnicom and as a consultant, Tran joined iSpot.tv to grow their digital marketing and field marketing divisions, while producing the company's marquee event, TV Disrupt, driving demand and bringing attention to the future of TV ad measurement. In 2020, Tran was awarded a Fellowship with the Advertising Club of NY for rising female leaders. Her contributions have been featured in eMarketer, Business Insider, tech hackathons, Cannes Young Lions, Social Fresh and Social Media Strategies Summit.
"We're so pumped to have Tim and Amelia join the team," said WorkReduce Founder and CEO Brian Dolan. "They're both so passionate about our core values around creating an inclusive, flexible working environment. And with the growth we're experiencing, we need the help!"
About WorkReduce:
WorkReduce is a data-driven platform for marketing, staff augmentation and services. WorkReduce simplifies recruiting, screening, and managing the market's most proficient multi-sourced media talent. Our team. Your gain. Grow faster with WorkReduce.