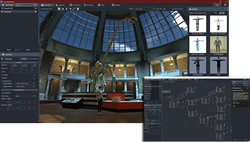 "HyperSkill is a giant leap towards our mission to democratize the creation of 3D, interactive, immersive and intelligent simulations. We are enabling instructional designers and subject matter experts (SME) to create high-fidelity learning experiences in an entirely self-serve manner."
IRVINE, Calif. (PRWEB) May 30, 2022
SimInsights today announced general availability (GA) of HyperSkill, a no-code 3D simulation software for Virtual and Augmented Reality and Artificial Intelligence powered training. HyperSkill was created to enable instructional designers and subject matter experts to author immersive, interactive and intelligent training content without having to learn programming or technical skills in machine learning and artificial intelligence. HyperSkill enables non-programmers to author VR/AR/AI-powered content, automatically optimize it and publish it across many devices and audiences and collect and visualize experience data for assessment and evaluation. HyperSkill has been used by customers in healthcare, manufacturing and education and has been developed with their close collaboration and feedback.
"HyperSkill is a giant leap towards our mission to democratize the creation of 3D, interactive, immersive and intelligent simulations," says Rajesh Jha, CEO and XR/AI Product Leader at SimInsights, Inc. "We are enabling instructional designers and subject matter experts (SME) to create high-fidelity learning experiences in an entirely self-serve manner."
Features and benefits of HyperSkill include:

No-code authoring: 10 times faster and cheaper to author compared to programming with 3D game engines
Reusable repository: Rapidly growing public repository of XR-ready 3D assets, including virtual environments, virtual persons and virtual objects
AI-Powered: Natural Language Processing (NLP) and Computer Vision to simplify authoring, enhance experiences and unlock new use cases
Cross Platform: Author once, deliver everywhere, including emerging AR/VR headsets as well as web, desktop and mobile platforms.
Multiplayer: Enables synchronous learning scenarios, including collaborative and instructor-led training.
HyperSkill is a SaaS (Software as a Service) product available for a free trial. For more information on pricing, visit https://siminsights.com/pricing-page/
About SimInsights, Inc:
SimInsights' mission is to democratize the creation of 3D, interactive, immersive, and intelligent (I3) simulations. We believe that simulations are the most impactful way to learn, yet few people can leverage them as a creative medium. SimInsights enables everyone to capture their knowledge in the form of 3D immersive, AI-powered simulations and share it with others. Many companies are hiring programmers with game engine and back-end expertise to create training content which is proven to be slow, expensive, and risky. In contrast, our software platform – HyperSkill – enables clients' existing instructional designers and subject matter experts to author-publish-evaluate 3D immersive, interactive, and intelligent (I3) content. By avoiding the need to hire game engine developers and 3D artists, clients can cut cost, risk, and time to value by a factor of 10x to 100x. We have completed multiple successful deployments in manufacturing, healthcare, and higher education.
About HyperSkill:
HyperSkill is SimInsights' patent-pending VR/AR/AI-powered, cloud based SaaS software product to enable enterprise customers to transform their training and operations from traditional to immersive (XR), and from static to interactive and personalized (AI-powered). Embracing VR/AR/AI as part of digital transformation delivers ROI, and boosts human engagement, reskilling and upskilling.To learn more, please contact us.