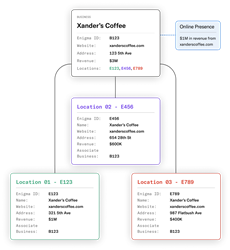 "For our decision-making, it's critical that we get the full picture of a multi-location business, including online revenue, in one view," says Pieter Van Ispelen, VP of Decision Science at Divvy. "These new capabilities will be valuable for our team."
NEW YORK (PRWEB) June 03, 2022
Enigma, a data science company that provides comprehensive intelligence about the financial health and identity of every U.S. business, today announced the release of new features to give customers a holistic view of small business revenues.
Customer feedback was a driving force in delivering these new capabilities. While some customers want to pinpoint the health of a single business location, others want a portfolio view of all related businesses. Newly released features include:

Business hierarchies: Customers can now see the relationship between a business and all of its individual locations. Queries on an individual location or URL will display total card revenue data for all related locations of that business, whether the presence is physical or online.
URL matching: Customers can now query Enigma's data with a URL.
"For our decision-making, it's critical that we get the full picture of a multi-location business, including online revenue, in one view," says Pieter Van Ispelen, VP of Decision Science at Divvy. "These new capabilities will be valuable for our team."
Enigma can provide card revenues for 80–90% of U.S. card-accepting businesses. The business hierarchies and URL matching features join the growing list of recent product enhancements and releases, like the newly available Discover and Enrich products for marketing and sales teams.
"Our data product is a combination of unique data partnerships and a standard set of evaluation processes," says Charles Zhu, VP of Product at Enigma. "We are continuously improving those processes and always looking for new sources of data to deliver a product with accuracy, quality and coverage that keep getting better."
ABOUT ENIGMA
Enigma provides comprehensive intelligence about the identity and financial health of every small and medium business across the United States. By engineering better data from hundreds of public and third-party sources, they aim to tell the complete story of every business, so that companies of every size can access the financial services they need to grow and thrive. Financial organizations from the world's largest banks to tomorrow's unicorns use Enigma's data to better serve their small and medium business customers. To learn more visit https://enigma.com.