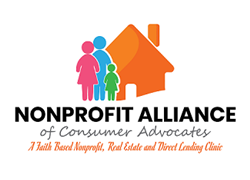 COSTA MESA, Calif. (PRWEB) July 13, 2022
Mr. Agustin Barrera's original Lender went into bankruptcy in 2010. A different lender showed up after ten years in 2020, requiring a delinquent amount of $168,096.08 and putting his property in Foreclosure. Mr. Agustin reached out to the Nonprofit Alliance of Consumer Advocates; a Federally Credentialled 501C3 Nonprofit Loss Mitigation Clinic focused on Homeownership Preservation and Affordable Housing.
At first, Mr. Agustin Barrera's bank denied his request for assistance before being referred to the Nonprofit Legal Clinic that specializes in all strategies of Loss Mitigation and home retention.
Mr. Barrera did not let the denial discourage him from trying again thru the Nonprofit Alliance of Consumer Advocates. A qualified and experienced Nonprofit Loss Mitigation Volunteer Senior Advocate helped him gather the correct information to identify the actual owner of the Loan, not just the servicer. They also assisted Augustine in properly appealing the denial even though the Lender felt that they had not made material changes to his financial situation after he originally applied.
The client modification process was complex. Most homeowners get rejected several times before approval; the process is often due to confusing paperwork shuffled between the Homeowner and the Servicing agent, who most cases, does not own the Loan. His Lender has been accused of claiming they never received 'lost' documents or that Mr. Barrera never sent them everything. In addition, they also use a script to avoid sending a written confirmation of the loan modification. They also followed up on the application every week. If a homeowner wants to avoid Foreclosure, they should have a clear plan to bring their Loan current and a contingency plan just in case.
Mr. Barrera agreed to have the Nonprofit Legal Clinic set up a few 'backup plans' pre-set and ready just in case his Lender again rejected his request for assistance, even with the help of the Nonprofit Alliance of Consumer Advocates.
Mr. Barerra was introduced to more aggressive loss mitigation strategies that can incorporate the Nonprofit Clinics strategic alliances that include Private Equity Hedge Funds, a consortium of almost 4,000 Private Money Investors, retired CPAs, Direct Mortgage Lenders, Real Estate Brokers, Foreclosure Defense Attorneys, Bankruptcy Attorneys as well as Wrongful Foreclosure Attorneys that are ready and willing to fully Prosecute Wrongful Foreclosure Cases on 100% contingency basis, ZERO out of Pocket cost to eligible clients that are referred by the Nonprofit Alliance of Consumer Advocates.
According to Attorney Fernando Leone, Senior Legal Services Director for the Nonprofit Alliance of Consumer Advocates, "Fortunately for both Augustine as well as his Lender; being overly prepared and not needing to be is far better than being turned down for assistance at the last minute and not having enough time to seek other alternatives. Even though both Mr. Augustine Barrera and two of their strategic alliances were ready and willing to implement a more aggressive alternative plan 'B' and or plan' C', they were pleased to see his Lender provide him the Free Loan Modification voluntarily instead".
Nonprofit Alliance of Consumer Advocates helped Mr. Barrera reduce his interest rate from an adjustable 10.50% to a low fixed 2.90% and lowered their mortgage payment to the sustainable payment of $1,020.88. He expressed his sincere gratitude and appreciation to the Nonprofit Alliance of Consumer Advocates for all the hard work their staff performed that resulted in helping him and his family retain their home.
The key objective of the Nonprofit Alliance of Consumer Advocates is to educate the homeowners on their Consumer Legal Rights, which will allow them to make an informed decision regarding their next step to Homeownership Preservation. Concerning guidance, Call (855) NACA-HELP (855)622-2435 or check them out at http://www.NACALaw.org.