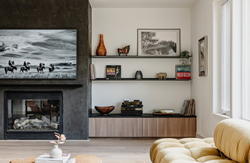 "Partnering with Shelfology allows us to satisfy our customers' desire for more customizable shelving options and more storage solutions. With so many options from size to color to finish, they will be able to create one-of-a-kind looks for their home," said Beth Brenner, president of Semihandmade.
LOS ANGELES (PRWEB) July 19, 2022
Semihandmade, the leading home remodeling brand known for pairing stylish doors with IKEA cabinets, today announced a partnership with Shelfology, maker of modern, customizable shelving made to order in the USA, to offer a curated selection of Shelfology's shelving and storage solutions.
At the heart of this partnership is a shared philosophy of making the highest-quality products that fill a void in the design world, combined with top-notch customer service. Semihandmade will offer a curated selection of Shelfology's signature products, including seven styles of shelves and 10 hook options, with 12 steel colors and six wood finishes. Among the steel shelf options are eight brand new colors which will be exclusive to Semihandmade, including three colors that match hues offered in their best-selling collaboration with designer Sarah Sherman Samuel — Desert Gray, Night Sky and Agave.
"Semihandmade and Shelfology are such natural partners and share similar founding stories and philosophies," said Beth Brenner, president of Semihandmade. "Both brands were started by creative founders who saw an opportunity to approach design differently and make products that seamlessly blend function and form. We both pride ourselves on a customer-first philosophy which feeds our mutual brand love."
"Semihandmade is based on a sweet idea, their products and business model are killer, plus they are nice people—almost as nice as us. Who wouldn't want to partner with them?! Seriously, though, their brand and products are a perfect dovetail with Shelfology's, and we are stoked to add our mojo to theirs," said Kevin Anderson, founder and CEO of Shelfology.
The debut of Shelfology is part of the launch of Semihandmade's new Marketplace, offering high-end, design-centric brands that make Semihandmade a one-stop shop for all things home makeover. Launching today, customers will now not only be able to shop Semihandmade's cabinet fronts, but also decorative hardware from brands such as Rejuvenation, Caesarstone surfaces and Hawkins New York kitchen and bath accessories — in addition to shelves, hooks and hangers — all in a single destination, with more brand partners to be announced soon.
"Our customers crave both style and organization; partnering with Shelfology as part of our Semihandmade Marketplace allows us to satisfy their desire for more customizable shelving options and more storage solutions," continued Brenner. "We're especially excited about the powder-coated steel shelving options that will add something completely different to our line — bright colors, colors that match our Semihandmade fronts, and a chance for our customers to mix and match steel and wood. With so many customization options from size to color to finish, our customers will be able to create one-of-a-kind looks for their home."
To shop the Semihandmade x Shelfology collection, please visit http://www.semihandmade.com/shelfology.
About Semihandmade
Founded by John McDonald, a former screenwriter, Semihandmade launched in 2011 with the goal of using IKEA cabinets as a base for handmade craftsmanship at a competitive price. Since then, Semihandmade has grown to over 60 employees, shipped 20,000 projects across the US, and opened design centers in NY, LA, Minneapolis, and Chicago. In 2021, Semihandmade launched BOXI, the first American-built, direct-to-consumer cabinet system for the entire home. The company has ranked among Inc. Magazine's fastest-growing private companies every year since 2015, and exceeded $20MM in revenue in 2021.
About Shelfology
Shelfology specializes in über-high-quality and made-to-measure shelving and shelf hardware that make your space happier, more organized, and more convenient. In 2012, CEO Kevin Anderson, an interior designer by trade, designed the first heavy-duty floating shelf bracket. Ten years later with more than 200,000 sold, Shelfology has become the industry leader in the American-made shelving market for over-the-top sturdiness, infinite customizations, and tons of radical designs. With over 60 employees and more than 30 killer products on offer, Shelfology has continued to advance its goal to help customers reclaim their walls; melding high quality products with a seamless, fun, and satisfying customer experience.