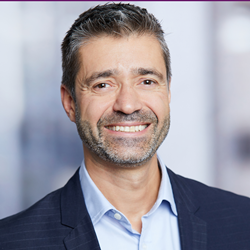 At Stratevi, we look forward to partnering with our clients to develop evidence-supported value and access strategies.
SANTA MONICA, Calif. (PRWEB) August 01, 2022
Stratevi LLC, a boutique health economics, outcomes research, and market access consulting firm, announces the appointment of Daniele Severi Bruni, MS, to the newly created role of Chief Access Officer. Mr. Severi Bruni will focus on expanding the firm's capabilities and service offerings in strategic pricing and market access. He will be based in Santa Monica, California, and report to Josh Epstein, PhD, Chief Executive Officer.
With Mr. Severi Bruni joining alongside Matthew Sussman, Stratevi doubled its leadership team in 2022, and is now able to more comprehensively address its clients' needs.
"As we celebrate our 7th anniversary, we are thrilled to have Daniele bring to the team a highly specialized and complementary set of skills, which will strengthen Stratevi's value proposition," said Dr. Epstein.
Mr. Severi Bruni also commented that, "it is extremely exciting to join this team of talented health economists. I am honored to have the opportunity to develop a new set of integrated services, designed to deliver strong and actionable market access solutions. Too often market access consulting groups lose sight of the actual evidence that is needed to successfully implement their recommendations. At Stratevi, we look forward to partnering with our clients to develop evidence-supported value and access strategies."
Daniele Severi Bruni brings over 22 years of experience in academia and management consulting. For the past 15 years Daniele has focused on pricing & market access and payer strategy. He has worked both in Europe and the US. He has in-depth knowledge of both European HTAs and US Managed Markets, as well as a robust network of payers and expert advisers. Daniele has worked across many disease areas, and he has been part of the market access launch readiness teams for several large and small drug manufacturers. Daniele holds a degree in Business and Economics and Master of Technology and Innovation Management from Bocconi University, in Milan.
About Stratevi®
Stratevi is a boutique professional services firm that partners with pharmaceutical, biotech, and medical device manufacturers to strategically generate and creatively communicate evidence of product value to ensure optimal access to therapy and enhance health outcomes. Stratevi has developed several differentiated products and services, including StrateLaunch™, StratePulse®, StrateReview™, StrateVision®, and StratePlay®. Stratevi has offices in both Santa Monica, CA, and Boston, MA. To learn more, please visit http://www.stratevi.com or connect via LinkedIn.