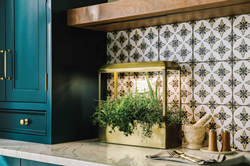 CHICAGO (PRWEB) August 10, 2022
Modern Sprout, whose mission is to connect people and plants, today announced the company has leased a new space, growing their current footprint by 70 percent and placing the entire team in one office space for the first time as a brand.
Since launching in 2013, Modern Sprout has been dedicated to designing thoughtful products that empower people to bring the outdoors in and create their own plant-filled oasis. With a solution-oriented approach, their products solve every day gardening woes for novice and seasoned growers alike, and reinvent the way plants and design intersect.
In 2021, Modern Sprout doubled their revenue and increased their number of employees, making the need for a larger office that gives adequate space to their entire team all the more important. They previously occupied multiple spaces spanning 23,000 square foot space at an Industrial Council of Nearwest Chicago (ICNC) incubator space. ICNC offers an innovative, entrepreneurial ecosystem that incubates small businesses, develops the local workforce, and generates community-based economic development.
The new office location will be at 2145 West Grand Avenue, owned and managed by Manna Capital Partners, LLC. Modern Sprout will occupy a 38,997 square foot space, which will be used for offices, production and fulfillment as the brand assembles nearly all their goods out of their Chicago facility.
"When we first moved into the ICNC incubator seven years ago we leased a 1,300 square foot space and had only a handful of contract employees. As we've grown, we've expanded into multiple spaces throughout the ICNC building thanks to them accommodating our growth in creative ways," said Sarah Burrows, co-founder of Modern Sprout. "After doubling in size in 2021, we reassessed our space and needs as a company, and it made sense for us to consolidate our team into one unit and build out a more efficient workspace. We are committed to staying in Chicago's Near West side as we love the neighborhood and it's where so many of our team members live, so it was a narrow search to maintain close proximity to the office for our employees — moving just four blocks from our previous space," continued Burrows.
The self-funded brand, co-founded by a husband and wife team, has grown to more than 150 SKUs with a diverse portfolio of retail partners ranging from specialty neighborhood stores to national brands including Target, Nordstrom and Whole Foods.
"Modern Sprout is a great example of the strength of Chicago's startup ecosystem," said Michael Fassnacht, President & CEO, World Business Chicago, Chief Marketing Officer, City of Chicago. "Launched out of one of Chicago's most successful incubators in the Kinzie Industrial Corridor, today this fast-growing company is changing the way people, plants and design intersect, and is well-positioned for continued success and expansion."
For more information on Modern Sprout, please visit modernsprout.com.
# # #
About Modern Sprout
Modern Sprout is a fast-growing, Chicago-based design shop and manufacturer that has become a leader in the grow-your-own movement with its innovative indoor and outdoor garden-focused lifestyle goods. The genius behind the brand is translating the logic and utility of hydroponic growing systems into simple, stylish and sustainable products that thrive inside the average home. Modern Sprout's collection of over 150 SKUs has introduced a new and highly sought-after category to home and gift retailers – gifts that grow. In addition to selling direct-to-consumer, the brand's rapidly growing retail footprint includes Target, West Elm and Whole Foods, as well as an amazing list of independent boutiques/stores.
Media Contact:
Megan Shockney
858-442-3492
megan@chloettepr.com