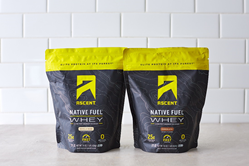 We are beyond excited to partner with Walmart and expand distribution of Ascent Native Fuel Whey Protein into the world's largest retailer.
DENVER (PRWEB) September 13, 2022
Ascent Protein, a sports nutrition company committed to offering clean products for athletes and fitness enthusiasts, is pleased to announce that its Native Fuel® Whey Protein can now be purchased in convenient one-pound bags online and at over 1,500 Walmart stores across the country in two of its most popular flavors, Chocolate and Vanilla Bean.
"We are beyond excited to partner with Walmart and expand distribution of Ascent Native Whey Protein into the world's largest retailer. It is a pivotal moment for Ascent to now have our products accessible to millions of new Walmart consumers who may not have been exposed to the brand otherwise but are looking to aspire a healthy lifestyle with added protein supplements," said Dallas Doiron, Ascent Associate Director of Sales.
Ascent Native Fuel Whey Protein is made with a blend of clean, high quality whey proteins – including native whey -- the least processed whey protein available. The company is continually innovating to deliver some of the cleanest protein products on the market for consumers seeking high quality ingredients to support muscle health and athletic performance. Ascent's Chocolate and Vanilla Bean Whey products deliver 25g of clean protein per serving and contain zero artificial flavors or sweeteners. Ascent is also Certified Gluten Free and Informed Sport Certified, meaning every batch is third-party tested for banned substances.
Since launching in 2016, Ascent has quickly become one of America's fastest growing sports nutrition companies with its line of clean products. Ascent Protein is trusted by some of the world's most prominent elite athletes, including professional running back Jonathan Taylor, two-time CrossFit Games Champion Katrin Davidsdottir, and Team USA Weightlifting athletes CJ Cummings and Jourdan Delacruz.
About Ascent
Ascent® was created to naturally improve athletic performance and is The Official Sponsor of Hard Work®. Ascent launched in 2016 and has continued to bring innovative products to the market, while remaining committed to their high-quality standards and offering products with straight-forward ingredients and nothing artificial. All Ascent products contain zero artificial flavors and sweeteners and are Certified Gluten Free, and Informed Choice Certified meaning they are third party tested for banned substances. Aligning with the admirable qualities in the athletes that Ascent serves - going the extra mile, completing an extra set, and never backing down from a challenge, Ascent pushes for high-quality results, knowing they do not come without hard work. For more information, visit http://www.ascentprotein.com.
About Walmart
Walmart Inc. (NYSE: WMT) helps people around the world save money and live better — anytime and anywhere — in retail stores, online, and through their mobile devices. Each week, approximately 230 million customers and members visit more than 10,500 stores and numerous eCommerce websites under 46 banners in 24 countries. With fiscal year 2022 revenue of $573 billion, Walmart employs approximately 2.3 million associates worldwide. Walmart continues to be a leader in sustainability, corporate philanthropy and employment opportunity. Additional information about Walmart can be found by visiting corporate.walmart.com, on Facebook at facebook.com/walmart and on Twitter at twitter.com/walmart.