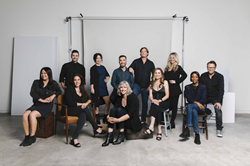 "This network opens up a world of possibilities to make anything almost anywhere with speed, efficiency and the highest standard of quality."
TORONTO (PRWEB) September 14, 2022
Completing a series of strategic acquisitions, Makers has launched the largest global Producer network for global brands, unifying 11,471 producers located in 173 countries. This network, which is available to clients now, uses a combination of people and technology to bring together a thoughtfully curated array of diverse production specialists, resources, and capabilities - allowing brands to execute ideas in new, untapped markets with greater ease.
This launch is an expansion of Makers' existing producer-only business model, where producers are a direct partner and business lead for clients, lead the execution of projects from start to finish, and set up the circumstances for collaboration with a team of specialists. Makers was founded in 2016 by executive producer Sumit Ajwani and has a track record of producing ideas in advertising, entertainment, experiences, innovation and fabrication. The network serves as a pre-vetted extension of the Makers team of more than 60 full-time producers.
"We have been listening to our clients who want to have a presence and bring ideas to life in different markets around the world without needing to set up infrastructure there. They also need cultural fluency as they enter those markets to ensure what they're making reflects the local community. Our global network delivers on that promise," said Sumit Ajwani, founder, Makers. "This network means our clients are now global brands and our producers are now global producers. It opens up a world of possibilities to make anything almost anywhere with speed, efficiency and the highest standard of quality. Our team of producers has been partnering with clients to make great ideas a reality for six years now, but this is really only the beginning. I can't wait to see what we make and build from here."
Makers' global network is bolstered by consistent growth of the business in recent years. The company recently acquired Fixation.TV and opened a presence in Europe, and announced its expansion into the U.S. in 2021.
Makers now has producers and local experts and specialists on the ground in the following countries: Albania, Algeria, Angola, Argentina, Armenia, Australia, Austria, Azerbaijan, Bahamas, Bangladesh, Barbados, Belarus, Belgium, Belize, Benin, Bhutan, Bolivia, Bosnia and Herzegovina, Botswana, Brazil, Bulgaria, Burkina Faso, Burundi, Côte d'Ivoire, Cabo Verde, Cambodia, Cameroon, Canada, Central African Republic, Chad, Chile, China, Colombia, Congo, Costa Rica, Croatia, Cuba, Cyprus, Czechia, Democratic Republic of the Congo, Denmark, Dominica, Dominican Republic, Ecuador, Egypt, El Salvador, Estonia, Eswatini, Ethiopia, Fiji, Finland, France, Gambia, Georgia, Germany, Ghana, Greece, Guatemala, Guinea, Guyana, Haiti, Holy See, Honduras, Hungary, Iceland, India, Indonesia, Iran, Iraq, Ireland, Israel, Italy, Jamaica, Japan, Jordan, Kazakhstan, Kenya, Kiribati, Kuwait, Kyrgyzstan, Laos, Latvia, Lebanon, Lesotho, Liberia, Libya, Lithuania, Luxembourg, Madagascar, Malawi, Malaysia, Maldives, Mali, Malta, Marshall Islands, Mauritania, Mauritius, Mexico, Micronesia, Moldova, Monaco, Mongolia, Montenegro, Morocco, Mozambique, Myanmar, Namibia, Nepal, Netherlands, New Zealand, Nicaragua, Niger, Nigeria, North Macedonia, Norway, Oman, Pakistan, Palestine State, Panama, Papua New Guinea, Paraguay, Peru, Philippines, Poland, Portugal, Qatar, Romania, Russia, Rwanda, Saint Lucia, Saint Vincent and the Grenadines, Samoa, Saudi Arabia, Senegal, Serbia, Seychelles, Sierra Leone, Singapore, Slovakia, Slovenia, Somalia, South Africa, South Korea, South Sudan, Spain, Sri Lanka, Sudan, Suriname, Sweden, Switzerland, Syria, Tajikistan, Tanzania, Thailand, Timor-Leste, Togo, Tonga, Trinidad and Tobago, Tunisia, Turkey, Turkmenistan, Uganda, Ukraine, United Arab Emirates, United Kingdom, United States of America, Uruguay, Uzbekistan, Vanuatu, Venezuela, Vietnam, Yemen, Zambia, Zimbabwe.
About Makers:
Makers is a first-of-its-kind, Producer-only collaborative in North America, with a growing team of 60+ Producers who are redefining the way ideas get made in the world. Our Producers work with ideators across all industries to creatively execute projects in advertising, entertainment, events and experiences, innovation, rapid prototyping, construction and more. Makers has partnered with more than 70 global and local clients, including Canada Goose, RBC, Mattel, PepsiCo, Sephora, Amazon Prime, and the World Wildlife Fund, among others. Learn more at http://www.makers.to.