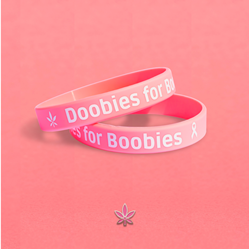 nuEra's Doobie's For Boobies fundraiser gives the Illinois cannabis consumer to opportunity to support causes they believe in while doing what they love to do.
CHICAGO (PRWEB) September 21, 2022
nuEra cannabis today announced a month-long fundraising initiative in which proceeds will benefit 3 locally-run organizations in Illinois that serve the needs of the women and families affected by breast cancer.
Throughout the month of October nuEra's six dispensary locations will be donating $1 per unit sold of special edition cannabis flower pre-rolls and "Dubble Joint" infused pre-rolls. They are also donating net revenue from the sales of "Doobies For Boobies" wristbands and pink nuEra logo pins. Proceeds will go to Gilda's Club, Pink Heals Peoria and Pink Heals Central Illinois.
The work of these organizations directly impacts women in Illinois through several different initiatives related to this cause including education, research, financial assistance, providing access to patient services, community support, and other prevention and recovery programs.
Pink Heals, who are best known for their fleet of pink fire trucks and police cars, will be on-site at 3 different nuEra retail dispensary locations on Saturday October 1st to help support the "Doobies For Boobies" launch.
For more details on the nuEra participating locations, special edition products and organizations being supported visit: https://nueracannabis.com/doobies-for-boobies-fundraiser-2022/
nuEra has given back to local communities in a variety of ways. They've donated over $20,000 in customer supported "shopping for a cause" initiatives like "Doobies For Boobies". nuEra's Hillcrest Cultivation Center donated $100,000 to Illinois Valley Community College's cannabis production certificate program, and nuEra Dispensaries have donated over $370,000 to the Social Equity Cannabis Business Development Fund, to be used to support new Social Equity Cannabis license holders in Illinois via low interest loans and other programs.
About nuEra:
The name nuEra highlights the fact that legalization in Illinois didn't just change the laws on the books - it unleashed a whole new era of cannabis. An era in which cannabis is safer, higher quality and available in a greater variety than ever before. Canna-consumers have more methods of consumption, more strains, more precise dosage labeling, and better information about the effects of each of our products than any generation before them.
nuEra sources the highest quality products to suit the needs of qualified Illinois Medical patients and 21+ adult-use customers alike. nuEra currently operates three Medical/Adult Use dispensaries in Chicago, East Peoria, and Urbana, and three secondary Adult Use only dispensaries in Aurora, Champaign and Pekin.
You can find out more about nuEra at http://www.nueracannabis.com