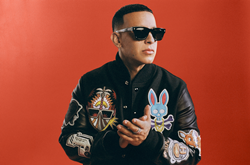 I believe you have to color outside the lines to get somewhere new, says Daddy Yankee. During the design process, I really wanted to emphasize how music and creativity bring me energy. The world is made better through creativity—when you color outside the lines of what's expected.
NEW YORK (PRWEB) September 22, 2022
Spirited menswear brand Psycho Bunny is continuing their mission to support the arts and encourage self-expression in the second iteration of their yearly initiative, Color Outside the Lines (COTL), which launches today. COTL is a charitable capsule collection designed in collaboration with public figures known for leading lives of creativity and purpose to encourage today's youth to express themselves artistically through their 2022 COTL partnership with YoungArts. The campaign is rooted in Psycho Bunny's commitment to empower artistic expression and this year's lineup of star-studded collaborators includes Daddy Yankee, Kendrick Sampson, Justise Winslow, Brother Nature (​​Kelvin Peña), and Jay Versace.
Psycho Bunny tapped writer, comedian, and TV personality The Kid Mero to interview each cast member to highlight their 'defining moments' and self-expression discoveries'. These stories provided the inspiration for the patches that adorn the limited-edition collection. Daddy Yankee's patches, designed in collaboration with illustrator Raul Urias, feature symbols that represent his unique perspective and journey as a musician and creator. The patches include a torch that speaks to his efforts in bringing his distinct style of reggaeton music to the World, and a goat that speaks to his personal symbol as the G.O.A.T ('greatest of all time') and the enduring legacy of his music.
"I believe you have to color outside the lines to get somewhere new," says Daddy Yankee. "During the design process, I really wanted to emphasize how music and creativity bring me energy. The world is made better through creativity—when you color outside the lines of what's expected."
The patchworks read like tattoos, or marks on the body that represent pivotal and relatable moments of creativity in each of the cast members' lives. In turn, actor and BLD PWR Co-Founder Kendrick Sampson partnered with illustrator Darien Birks and drew inspiration from his hometown, favorite food, and life-changing words of wisdom he once found on a bathroom door: "I love the concept of 'coloring outside the lines'. I was always struggling at coloring inside the lines; it's not my strength. As I got older, I learned to embrace and nurture that instinct of the rebel in me. And when it's fused with the values of liberation, it can be a really helpful tool to stretch our imaginations for creative solutions and endless possibilities." The COTL capsule collection includes 11 styles, from super limited-edition varsity jackets ($795 made in the USA by Golden Bear), t-shirts ($85), baseball caps ($60), hoodies ($180), and more.
Psycho Bunny has partnered with YoungArts, an organization that identifies exceptional young artists and invests in their lifelong creative freedom. The brand will donate 50% of the net proceeds from the COTL collection to the organization and hired photographer Diana Eusebio, a 2016 YoungArts winner in Design Arts with a mission to translate misrepresented stories into visual content, to help shoot behind-the-scenes photos and video for the campaign.
"Experimentation and collaboration are core values of YoungArts' ethos," said Rebekah Lanea Lengel, YoungArts Deputy Director. "We are excited to partner with Psycho Bunny, not only in providing Diana Eusebio with an opportunity to express her creative imagination alongside inspiring artists, but also to support YoungArts' capacity to amplify the potential of the next generation of artists."
Founded in 2005 with a mission of creating the perfect polo, Psycho Bunny has developed a cult following thanks to their commitment to quality, their eye-popping colors and an unconventional logo that stands apart in the sea of sameness. They have since expanded from polos to tees, French terry fleece, technical outerwear, and so much more. The irreverent brand offers a playground for self-expression, with clothes that let the consumer wear their personality on their sleeve and their character on their collar.
"Self-expression is core to our brand DNA and this year's Color Outside The Lines campaign is all about celebrating the power of creativity and the spark that ignites our greatest accomplishments," says Matthew Morein, Vice President, Brand & Marketing, of Psycho Bunny. "By tapping into 'untold' stories of those we admire, we hope to inspire other young artists to follow their dreams and express themselves to the fullest."
The Color Outside the Lines collection can be found in all US and Canadian stores (excluding Toronto Premium Outlets) and online. Find out more at http://www.psychobunny.com.
About Psycho Bunny:
What started out as a mission to create the perfect polo has evolved into a means for self-expression and igniting confidence. Psycho Bunny is Classics, Re-imagined – menswear for those who want to channel their most vibrant and optimistic selves without sacrificing quality. Based in New York with headquarters in Montreal, Psycho Bunny's footprint will include over 100 stores across the Americas by the end of 2022 and continues to operate globally from http://www.psychobunny.com/http://www.psychobunny.com. Psycho Bunny credits its growth and intensely loyal fanbase to their deep commitment to craftsmanship, innovation, and individuality.