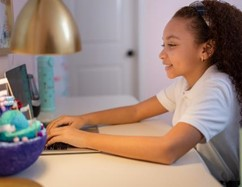 "We're grateful for the recognition and support of the State Policy Network as we continue to develop flexible in-person communities for students," said Founder and President of Great Hearts Nova and Chief Innovation Officer for Great Hearts America, Kurtis Indorf.
PHOENIX (PRWEB) September 23, 2022
On Wednesday, Sept 21st Great Hearts Academies, a national education organization currently serving over 25,000 students across Texas and Arizona with approved charters to expand to Louisiana and Florida, received the National Ed-Prize from the State Policy Network for their innovative Great Hearts Nova models.
Great Hearts Nova was developed in 2020 as an in-house innovation hub for new classical education models. The "research & development" division launched Great Hearts Online in Texas (January 2021) and Arizona (August 2021), and Great Hearts Microschools in both states in January 2022. In Fall 2023, Great Hearts Nova will launch a national Great Hearts Online offering.
The State Policy Network, an organization committed to supporting education freedom and catalyzing education entrepreneurs, recognized the work of Great Hearts Nova by awarding them the National Ed-Prize. The Ed-Prize is awarded annually to organizations that inspire and accelerate new solutions to improve education outcomes across the country. Director of Great Hearts Microschools, Andrew Shahan, received the honor at an award dinner on Wednesday, Sept 21st.
"We are absolutely thrilled to present the Ed Prize award, recognizing educational entrepreneurship, to Great Hearts Nova," says SPN's Jennifer K. Thompson. "Great Hearts is a leader in classical education, and their approach to delivering high-quality education to as many children as possible through bold innovation, partnering with families, and creative problem-solving impressed all of us."
The award will be used to accelerate Great Hearts Nova's multi-state microschool expansion by establishing an additional microschool in Arizona and investing in building an in-person community for currently enrolled GH Online students in both Texas and Arizona. "It has been an amazing experience working with Great Hearts families to co-create in-person learning environments," said Andrew Shahan, an experienced microschool operator who is now helping families bring this opportunity to their communities as the Director of Great Hearts Microschools. "Families are now able to experience a Great Hearts Classical Education at home and in their communities, unbound by geographic location."
Founder and President of Great Hearts Nova and Chief Innovation Officer for Great Hearts America, Kurtis Indorf, sees this as a critical moment for education innovation. "Parents are looking for new forms of education that meet the needs of their children and family. The classical education model is in high demand with families because of its focus on intellectual and moral formation: living in a community and being in good relationships with each other is a central theme of our work. We're grateful for the recognition and support of the State Policy Network as we continue to develop flexible in-person communities for students in both Great Hearts Online and Great Hearts Microschools."
# # #