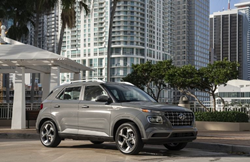 COCOA, Fla. (PRWEB) October 18, 2021
Cocoa Hyundai is committed to providing Florida drivers with the most popular Hyundai vehicles. The dealership has already received a substantial number of these new 2022 model-year Hyundai vehicles. The 2022 Hyundai Venue is one of these cars. This compact SUV's brand-new, updated 2022 model year vehicle is now available at Cocoa Hyundai.
This compact SUV comes in three trim levels: SE, SEL, and Denim and the EPA estimated fuel efficiency of all 2022 Hyundai Venue models at 30/33/31 mpg for city, highway and combined, respectively. It achieves these impressive statistics owing to a 1.6L four-cylinder engine and a continuously variable transmission (CVT). The engine has an impressive power output of 121 horsepower and a torque rating of 113 pound-feet. Regardless of trim level, all Hyundai Venue vehicles come with FWD.
At the time of writing, the dealership reported having the SEL trim of the 2022 Hyundai Venue in stock. As a result, potential buyers in the Space Coast area are encouraged to check the dealership's online inventory as soon as possible and take this subcompact SUV home.
To learn more about this vehicle or any other queries, the Space Coast area residents can contact the dealership's sales team at 321-631-2444 or visit their website. Cocoa Hyundai is located at 1825 West King Street in Cocoa, FL. The dealership is open Monday through Friday from 8:30 a.m. to 8 p.m. On Saturday it is open from 8:30 a.m. to 7 p.m. and on Sundays from 12 p.m. to 5 p.m.