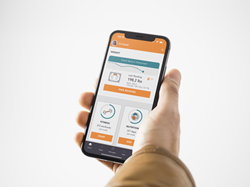 "After leaving Cardinal Health, I evaluated dozens of opportunities for what's next," Kaufmann said. "Prescribe FIT was among the most exciting companies I met with. Their team, culture and mission immediately impressed me."
COLUMBUS, Ohio (PRWEB) January 18, 2023
Remote monitoring and virtual lifestyle health startup Prescribe FIT recently closed an oversubscribed $4 million series seed round led by Tamarind Hill, a venture capital firm investing in tech-driven healthcare and supply chain companies. Prescribe FIT plans to use the funding to scale their solution in 2023 and beyond.
The orthopedic weight loss startup closed their seed round soon after welcoming several new, high-profile board members, as well as expanding coast-to-coast to states including Florida, Arizona, Hawaii, and others; a move that increased their number of prescribing providers 20-fold.
Additional fundraise participants include the Grote family—owners of Donatos Pizza and longtime Prescribe FIT investors—as well as practicing orthopedic surgeons and other notable business leaders such as Mike Kaufmann, the most recent CEO of Fortune 15 pharmaceutical and medical supply distributor Cardinal Health.
As his first venture since stepping down from his five-year tenure as CEO of Cardinal Health in August, Kaufmann will serve as an addition to Prescribe FIT's board of directors.
"After leaving Cardinal Health, I evaluated dozens of opportunities for what's next," Kaufmann said. "Prescribe FIT was among the most exciting companies I met with. Their team, culture and mission immediately impressed me."
Kaufmann will lend his over three decades of experience as a healthcare industry leader to advise on Prescribe FIT's vision and growth strategy.
Joining Prescribe FIT's board of advisors is Howard J. Luks, MD, renowned orthopedic surgeon and sports medicine specialist and author of the book, "Longevity...Simplified," a practical guide to living a longer, healthier life.
"I'm thrilled to join Prescribe FIT as an advisory board member," said Dr. Luks. "Their focus on lifestyle health is well-aligned with my own approach to care as an orthopedic surgeon. Together, we're taking on what they call the 'Orthobesity™' crisis."
"Orthobesity™," a portmanteau of the words "orthopedic" and "obesity," was coined by Prescribe FIT to describe the overrepresentation of individuals with obesity in the orthopedic patient population. As many as 55% of patients in any given orthopedic clinic are obese, compared to about 42% of the general population.
The strong association between obesity and orthopedic issues is what drives Prescribe FIT's focus on lifestyle health and weight loss for orthopedic patients. With remote monitoring and health coaching, Prescribe FIT has helped patients lose an average of 5.4% of their weight in 16 weeks. 82% of patients reduced their severe pain in 30 days.
Beyond the numbers, Prescribe FIT has helped patients improve their health and regain physical abilities they thought were long gone. According to their testimonials page, patients have successfully reduced or eliminated their insulin use and others regained the ability to walk without assistance.
With the conclusion of their first series seed round, Prescribe FIT CEO and founder Brock Leonti said the company now has its sights set on future financing, with plans to further their momentum in customer acquisition and rapidly scale patient engagement.
"With the close of this round and two formidable additions to our team of experts, we're strongly positioned to realize our plans for growth and further establish ourselves as the leading platform for orthopedic lifestyle health," said Leonti.
About Prescribe FIT:
Prescribe FIT is a full-service remote monitoring and virtual lifestyle health solution that extends orthopedic care beyond the office to help patients improve their musculoskeletal (MSK) health at home with simple changes to nutrition, physical activity, and lifestyle. By combining innovative technology with one-on-one coaching and patient outreach, they help orthopedic practices stay connected to their patients to help them decrease weight, reduce pain, and improve mobility at home.