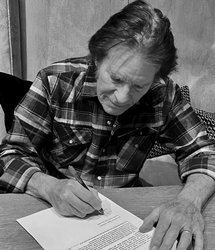 "As of this January, I own my own songs again. This is something I thought would never be a possibility. After 50 years, I am finally reunited with my songs," said John Fogerty.
LOS ANGELES (PRWEB) January 12, 2023
Flying against the current trend of musical artists selling their publishing rights, legendary singer-songwriter and founder of Creedence Clearwater Revival (CCR), John Fogerty, has made the bold and unique move to acquire a majority interest of the worldwide publishing rights to his historic song catalog from Concord.
For Fogerty, the composer of iconic songs that have inspired generations – "Proud Mary," "Down on the Corner," "Fortunate Son," "Bad Moon Rising," "Have You Ever Seen the Rain," among many others – the chance to own his compositions has been both a decades-long dream and a personal mission. For years, the copyrights to Fogerty's classic songs were the property of Saul Zaentz, the owner of Fantasy Records, who sold the label and its publishing portfolio to the former Concord Music Group in 1995. Fogerty, who extricated himself from Fantasy in 1974, re-signed with the label upon its purchase by Concord. Even so, he was not able to gain ownership of his songs – until now.
"As of this January, I own my own songs again. This is something I thought would never be a possibility. After 50 years, I am finally reunited with my songs. I also have a say in where and how my songs are used. Up until this year, that is something I have never been able to do. I am looking forward to touring and celebrating this year! I want thank Concord for helping to make all of this happen. And, I am excited for new ideas and a renewed interest in my music … like a revival," said John Fogerty.
"I was always hoping for a miracle that John would own his songs, and I'm so blissful knowing that this has finally come true for him," says Julie Fogerty, the singer-songwriter's wife and manager. "The songs he wrote for CCR were going to start reverting in approximately three years, continuing for each year forward. I thought to myself that if there was anything I could do to make that happen now, it would be that miracle that we have been waiting for more than 50 years. I began to produce a plan to purchase his publishing right now. In doing so, I enlisted the help of Irving Azoff, Jason Karlov, Susan Genco and we were able to secure the US Rights in addition to Worldwide Rights, which would not have been part of the copyright reversions. I am so joyful, grateful, and excited for John."
"John Fogerty is one of music's greatest treasures. Now, finally after decades of suffering, I'm thrilled to see John regain ownership of his music," says Irving Azoff. "And kudos to Concord for understanding that doing the right thing for artists is great for their business as well."
"John's songs are some of the greatest compositions of the 20th century," commented Concord President Bob Valentine. "We've been honored to own and represent these works ever since we acquired Fantasy in 2004. Given the unique set of circumstances around the history of John's relationship with Fantasy, we were more than happy to oblige John and Julie in working out an agreement for John to acquire these songs. And we're profoundly grateful that John has agreed to partner with Concord to re-invigorate his catalog for the remaining worldwide copyrights on the share of these songs that we will retain inclusive of the iconic CCR recordings. We look forward to what the future holds for John and will be thrilled to be a part of it."
Concord and Fogerty recently partnered on the official release of Creedence Clearwater Revival At The Royal Albert Hall on Concord's Craft Recordings. More than 50 years after the legendary 1970 show, the original multitrack tapes have been meticulously restored and mixed by GRAMMY®-winning producer Giles Martin and engineer Sam Okell. The accompanying documentary takes viewers from the CCR's earliest years together in El Cerrito, CA through their meteoric rise to fame and is the only concert footage of the original CCR lineup to be released in its entirety.
With an eye toward 2023, Fogerty notes that he is writing new material and is looking at recording soon. "There's definitely more to come," he says, adding with a laugh, "I happen to like the songs a lot."
For more information, please visit http://www.johnfogerty.com.
###
FOR MEDIA USE ONLY: Approved images
ABOUT JOHN FOGERTY
John Fogerty is a true American treasure. As leader of Creedence Clearwater Revival, Fogerty forged a distinctive, groundbreaking sound all his own, equal parts blues, country, pop, rockabilly, R&B, swamp boogie, and Southern fried rock 'n' roll, all united by his uniquely evocative lyrical perspective. Fogerty is a Grammy winner and has been inducted into the Rock & Roll Hall of Fame as well as the Songwriters Hall of Fame. He is the only musician to be inducted into the Baseball Hall of Fame for his song, "Centerfield," a staple at baseball stadiums across the country. Among Fogerty's many hit songs, both as a solo artist and as leader of CCR, highlights include "Centerfield," "Proud Mary," "Susie Q," "Fortunate Son," "Born on the Bayou," "Bad Moon Rising," and "Have You Ever Seen the Rain," among many others. In 2019, Fogerty celebrated 50 years in music with a worldwide tour with his show, "My 50 Year Trip." An album, "50 Year Trip: Live at Red Rocks," featuring a collection of Creedence Clearwater Revival (CCR) hits, including songs from the set list of his performance at the legendary Woodstock music festival in 1969 among other fan favorites, was released on November 8, 2019. In April 2020, while self-quarantining together the Fogerty Family, featuring John with his sons Shane, Tyler and daughter Kelsy, gathered in their home studio to play some music together. A weekly video series began and became so popular that a digital EP, Fogerty's Factory, was released via BMG on Fogerty's birthday, May 28, 2020. An extended, Fogerty's Factory full album was released on November 20, 2020. In December, Creedence Clearwater Revival's Chronicle Vol. 1 hit the milestone of charting for more than 500 weeks on the Billboard 200, becoming only the eighth album to ever do so. In early January 2021, Fogerty released his first new original solo music in eight years, "Weeping in The Promised Land." The song is Fogerty's definitive look back at 2020, ultimately serving as a moving tribute to those who had been affected by the pandemic, as well as those who have suffered through prejudice and injustice, with an eye on brighter days ahead.
ABOUT CONCORD
Concord is the independent, worldwide leader in the development, management and acquisition of sound recordings, music publishing, theatrical performance rights and narrative content. Headquartered in Nashville with additional offices in Los Angeles, New York, London, Berlin, Melbourne and Miami, Concord also has staff in Auckland, Sydney, Tokyo and Toronto. The Company's catalog consists of more than 1 million songs, composed works, plays, musicals and active recordings which are licensed in virtually every country and territory worldwide.
CONCORD LABEL GROUP is comprised of seven active labels across many musical genres: Fantasy Records, Fearless Records, Loma Vista Recordings, Rounder Records, Easy Eye Sound, Concord Records and Concord Jazz.
The company's historical labels are managed by its Craft Recordings team, and include such storied imprints as Fania, Independiente, Milestone, Musart, Nitro, Pablo, Prestige, Riverside, Savoy, Specialty, Stax, Telarc, Varèse Sarabande, Vee-Jay, Victory and Wind-up. Concord's master recording portfolio contains more than 275,000 active song recordings and includes no less than 300 GRAMMY® winners (representing over 6.6% of all the GRAMMYs® ever awarded) and over 400 Gold, Platinum, multi-Platinum and Diamond RIAA certifications across 215 titles.
Concord is also home to the #1 kids' music brand, KIDZ BOP. Now in its 20th year, the global hit music franchise has sold 22.5 million albums, generated 8 billion streams, and continues to reach kids and families with new music, videos, consumer products and live tours.
CONCORD MUSIC PUBLISHING represents more than 600,000 copyrighted works by the world's most celebrated songwriters, composers and lyricists. Spanning nearly two centuries of song, through a vast array of genres and territories, Concord Music Publishing also supports a diverse group of contemporary creators producing important and popular new songs and musical works. Concord Music Publishing is home to the world's leading classical music publisher, Boosey & Hawkes, and operates exclusive joint ventures with top pop music publisher, Pulse Music Group and Hillary Lindsey's Hang Your Hat Music.
CONCORD THEATRICALS is the world's most significant theatrical company, comprising the catalogs of R&H Theatricals, Samuel French, Tams-Witmark and The Andrew Lloyd Webber Collection, plus dozens of new signings each year. Our unparalleled roster includes the work of Irving Berlin, Agatha Christie, George & Ira Gershwin, Marvin Hamlisch, Lorraine Hansberry, Kander & Ebb, Ken Ludwig, Lin-Manuel Miranda, Dominique Morisseau, Cole Porter, Rodgers & Hammerstein, Thornton Wilder and August Wilson. We are the only firm providing truly comprehensive services to the creators and producers of plays and musicals, including theatrical licensing, music publishing, script publishing, cast recording and first-class production.
CONCORD ORIGINALS is Concord's narrative content creation division. The team develops and produces stories anchored by Concord's artists, music and theatrical works. Concord Originals takes a proactive, narrative-driven approach to each project and partners with A-list storytellers to produce premium content for screen and beyond. The division's slate is comprised of feature films, series, documentaries and podcasts, including remakes and re-imaginings of properties from Concord's iconic portfolio.
Concord is a private company funded by long-term institutional capital and members of Concord's management team. At the forefront of intellectual property valuation, acquisition and utilization, the Concord investment underscores the partners' belief in the lasting and appreciating global value of superior original creative content.