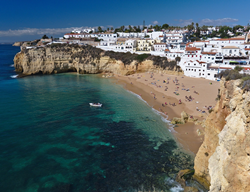 For the average American retiree, a carefully planned move to Portugal in 2023 should deliver better value for money on their retirement income and bring a more enjoyable way of life, compared to staying in the US
LOS ANGELES (PRWEB) January 18, 2023
Ideal Homes Portugal has a selection of new developments in the Algarve, including projects in the Lagos and Portimão areas, where they are able to match potential buyers with competitive mortgage products. Purchasing off-plan or even earlier at the pre-launch phase presents investors with the potential to benefit from capital gains, while long-term rentals should be achievable given the prime locations. Two examples available now through the agent, both luxury apartment complexes in the fashionable port city of Lagos, are The Edge and Santa Maria II. In the former early bird discounted prices start at €399,000 for a one-bedroom unit, while in the latter two-bedroom units start at €610,000.
For US investors, Portugal's comparatively cheaper mortgage rates help to make the new projects offered through Ideal Homes Property especially attractive. Mortgage rates in the US, which are double what they were at the start of 2022, are currently around the 6.5 per cent threshold and the National Association of Realtors expects them to stabilize just below 6 per cent this year. Compare this to Portugal where in January deals available through Ideal Homes Portugal offer variable rates of just 3.5 per cent and fixed rates of 4.2 per cent.
The favourable buying conditions that attracted US and other foreign citizens to the Algarve and wider Portugal in 2022 are continuing into 2023. Throw into the mix the famous Portuguese lifestyle and it makes sense why the country remains appealing to both investors and expats relocating to enjoy their golden years.
"For the average American retiree, a carefully planned move to Portugal in 2023 should deliver better value for money on their retirement income and bring a more enjoyable lifestyle, compared to staying in the US," said Chris White, chairman of Ideal Homes Portugal (https://www.idealhomesportugal.com). "We're seeing this with so many of our American clients coming over in recent months.
"In addition to the inflated day-to-living costs, which is a global issue, the expense of healthcare is an increasing burden for many US citizens and another reason to move overseas. Meanwhile quality new homes in pretty beach resorts or near the seafront in charming old harbour towns – the sort of environments sought after by retirees - are also more attainable in terms of price in Portugal."
The latest Cost of Living Index by global statistics site Numbeo, published in January 2023, highlights the affordability of Portugal next to other major European countries. Lisbon, ranked Portugal's most expensive metropolis, is Europe's 147th most expensive city, cheaper than key destinations in Continental Europe and Scandinavia. Next to US cities, Portugal compares equally favourably.
Crucially, for many American citizens the annual cost of healthcare can be slashed by moving to Portugal in 2023. Over the past decade, annual healthcare premiums have outpaced overall consumer prices in the US and whilst still rising, only in recent months have they dipped to below today's comparatively high inflation levels, according to health system trackers. By comparison, once a foreign national is registered as a Portuguese resident and has their tax number, they can gain access to the Portuguese state health service (SNS), which they can complement with a choice of private medical insurance.
"Not forgetting the other incentive offered by Portugal are its favourable tax rates for foreign residents," continued Mr White at Ideal Homes Portugal. "This is thanks to the Non-Habitual Residents (NHR) regime, which entitles newly arrived overseas residents who have not lived in the country for the previous five years to special tax rates for 10 years."
For more information and a guide to purchasing property in Portugal, visit https://www.idealhomesportugal.com/