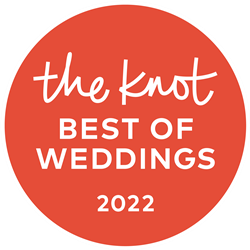 "Customization is our specialty. We work with all our couples to create the perfect wedding menu package for their special day. We also include a planner/facilitator who helps you plan your wedding and then keeps the day on track and flawless."
PEQUEA, Pa. (PRWEB) February 09, 2023
Drumore Estate is pleased to announce it has been selected as a 2022­­ winner of The Knot Best of Weddings. This award honors the top-rated wedding professionals as reviewed by real couples and their loved ones on The Knot, a leading destination for all-in-one wedding planning. This is the third year in a row Drumore Estate has been named a winner of The Knot Best of Weddings award.
To determine the winners, The Knot analyzes millions of user reviews across various categories to find the year's highest-rated vendors. These winners represent the best of the best wedding professionals engaged couples should consider booking for their unique weddings.
While hundreds of thousands of local wedding professionals are listed on The Knot, only five percent received this distinguished award in 2022. Drumore Estate is proud to be recognized for their exceptional service and execution of tasteful, well-planned weddings for couples in Lancaster, Pennsylvania, and surrounding areas.
Drumore Estate is a historic Georgian mansion nestled on 70 acres of lush greenery with pristine formal gardens and breathtaking views with both indoor and outdoor spaces. Privately owned yet open to the public for special events, this award-winning wedding venue is beloved not only for its sense of seclusion and timeless elegance, but the experience it provides.
"One of our biggest selling points at Drumore Estate is customization," says Megan Witmer, Sales Manager at Drumore Estate. "Customization is our specialty. We work with all our couples to create the perfect wedding menu package for their special day. We also include a planner/facilitator who helps you plan your wedding and then keeps the day on track and flawless."
Booking with Drumore Estate means securing Pennsylvania's best-personalized wedding planning service. The venue's in-house wedding planners and culinary team help clients coordinate their dream wedding from the first planning session to final send-off. This hands-on approach to wedding planning sets Drumore Estate apart from other local wedding venues, ensuring couples feel confident that their special day is the top priority.
To learn more about this one-of-a-kind Pennsylvania-based wedding venue and what makes it deserving of The Knot Best of Weddings 2022 distinction, we invite you to visit drumoreestate.com and schedule a tour of the property.
ABOUT DRUMORE ESTATE
With the help of a dedicated staff, owners Bill and Karyn Regitz work diligently to create a unique, stress-free, and unforgettable experience for every client. A historic private residence available to the public for special events, Drumore Estate is the pinnacle of elegance and serves as a one-of-a-kind wedding venue in Lancaster County, Pennsylvania.