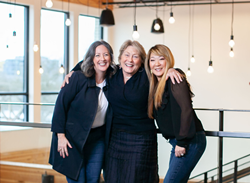 "One of Karen Bowery's lasting influences that she fought for from day one is how she helped move interior designers from being viewed merely as decorators, into having a seat at the table as an integral part of the overall project design process."
PORTLAND (PRWEB) February 22, 2023
Karen Bowery, Executive Vice President and Director of Interiors of Ankrom Moisan Architects, having forged the path for interior designers since 1978, will retire from the firm and her role in The Society on February 28, 2023.
Bowery launched the Interiors group at Ankrom Moisan when the firm was first founded in 1983. Her unwavering attention to the lifestyle and behavior patterns of the end user, combined with her keen understanding of consumer trends and future-focused insights, has cultivated a reputation for the firm as having one of the best Interiors groups in the country. Along with her leadership role with Ankrom Moisan, in 2016, Bowery launched The Society to focus exclusively on interior design for the hospitality industry. In six short years, The Society has secured a coveted spot on the "shortlist" for the most prestigious hotel brands in the world and is a three-time international award nominee.
"What Karen created with her dedication and hard work is unparalleled," says Dave Heater, Ankrom Moisan president. "This includes what she's built and how deeply she cares about the company and the people she has hired and helped nurture in their careers."
Bowery will turn over leadership of Ankrom Moisan's Interiors group to Alissa Brandt and Leah Wheary Brown, who have worked alongside her for 22 and 19 years, respectively. Brandt, Vice President of Interiors, and Wheary Brown, Vice President of Interior Design Strategy, will build upon Bowery's lasting imprint while cultivating their own vision for the firm. Casey Scalf, a Design Principal and founding member, will become the Director of The Society when Bowery retires."
One of Karen Bowery's lasting influences that she fought for from day one is how she helped move interior designers from being viewed merely as decorators, into having a seat at the table as an integral part of the overall project design process," says Wheary Brown.
"I'm extremely excited to further the legacy that Karen created," says Brandt. "This is a time of constant change and staying stagnant isn't an option. That's what is most exciting about interior design – it's never going to be the same, even when you're working with the same client. There's always an evolution, and Karen has consistently kept Ankrom Moisan at the forefront."
Since graduating from what was then the new Interior Design program at University of Tennessee at Knoxville in 1978, Bowery has influenced the practice of interior design on a monumental scale. She helped pioneer the field's best practices and lay the foundation for today's designers and interiors firms to flourish.
Tapped by legendary developer John Gray, Bowery led Ankrom Moisan in designing the interiors for Skamania Lodge in the Columbia River Gorge. From the groundbreaking through renovations, updates, and new additions, the firm has played a key role in helping to shape this iconic Pacific Northwest resort and surrounding property. It was also the launch pad for Bowery's focus on the hospitality industry and her work at The Society, which now includes as clients the world's top hoteliers: Marriott, Hyatt, Hilton, and the International Hospitality Group (IHG).
Working with developers like John Carroll and Homer Williams beginning in the 1990s, Bowery was instrumental in the transition of Portland's Pearl District from abandoned rail yards and warehouses to vibrant neighborhoods. She also created a unit customization program and pushed for staffing the sales offices of Pearl District projects in Portland and South Lake Union projects in Seattle with Ankrom Moisan designers to help buyers customize their units, a practice that was not being used previously but which has now become the norm.
Under her leadership at both Ankrom Moisan and The Society, Bowery and her teams have received numerous awards from the American Institute of Architecture, and the International Interior Design Association Oregon and Pacific Northwest chapters, along with Gold Key Awards for Excellence in Hospitality Design, TopID Awards from The Hospitality Industry Network, Senior Housing News Architecture & Design Awards, DJC Oregon Top Projects Awards, and Environments for Aging Design Showcase Awards, among others. Additionally, The Society has ranked on Interior Design Magazine's Top 100 Rising Giants list for the past two years.
"Karen has designed a self-sustaining model and has been the gasoline in the tank for our Interiors team," says Michael Stueve, Ankrom Moisan Principal, UX Strategist. "When she transitions to her next chapter in retirement we're not going to run out of gas. The energy she has put in is a renewable resource for the department. I've heard her say, 'My greatest purpose is to give people wings to soar.' I'm going to miss her a ton, she brings so much here, and she has empowered us for the future."
Bowery has established a protocol in which the Interiors team of any given project invests expertise at the forefront to fully understand the end user, consumer trends, the uniqueness of the locale and, in particular, what the return on investment will be for the client.
"When guests walk into a space, they should feel like they are meant to be there, that it is a place that defines them, supports their unique perspective, and honors their lived experience," says Bowery. "Ultimately, this deep background helps us bring designs to life and infuse projects with the unique details that help our clients stand out in the marketplace."
About Ankrom Moisan Architects
Ankrom Moisan Architects, Inc., was founded in 1983 by Stewart Ankrom and Tom Moisan, two colleagues who quickly learned from their clients that they could build a different kind of architectural firm. Since those beginnings the firm has flourished, and today, with more than 250 employees, and offices in Portland, Seattle and San Francisco, the firm ranks among the largest architectural firms in the western United States and serves an international client base. With a diverse portfolio that includes award-winning mixed-use developments, condominiums, market rate apartments, affordable housing, senior living communities, student housing, healthcare, workplace, and hospitality projects, the mission of Ankrom Moisan remains simple: Create Places Where People and Communities Thrive. For more information, visit ankrommoisan.com.
About The Society
Born out of the Pacific Northwest, this team of ten has worked all over the world, but there is no place like home. The Society's interior designers are among the most talented you'll find on the West Coast. The Collective includes A Duchess of Mischief, a Unicycle Mechanic, and a Competitive Eater but don't let that fool you, this team is all business… okay, maybe a little bit of play.
The Society is comprised of audacious designers and brand strategists with an insatiable desire to create moments that alter perspectives. We work with hotels, resorts, and restaurants who embrace bold moves and unexpected details. welcometothesociety.com