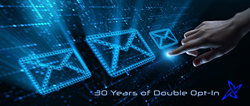 "Respect your subscribers and build trust by giving them full control and only sending email messages that they have explicitly requested via double opt-in. This benefits your sender reputation, subscriber relationships, communications and results." - Outi Tuomaala, L-Soft Executive VP
BETHESDA, Md. (PRWEB) March 15, 2023
Every day, people actively subscribe to email groups, newsletters and marketing campaigns on their own terms thanks to the world's first subscription confirmation feature, called double opt-in or confirmed opt-in, originally implemented in LISTSERV software. With this groundbreaking innovation, which turns 30 today, people sign up themselves and then also explicitly confirm their subscription to receive messages from their selected email group, newsletter or email marketing campaign, on the subscriber's terms. Double opt-in, which was released in the March 1993 version of LISTSERV email list management software, and LISTSERV itself were invented by Eric Thomas, L-Soft Founder and CEO. The double opt-in function continues to bolster consent and safeguard email list subscribers worldwide.
How Double Opt-In Works:
1. Person subscribes to sender's email communications
2. Sender sends confirmation link
3. Person confirms subscription by clicking link
Why Double Opt-In is Important:
1. Builds trust with subscribers, improves engagement, reduces complaints and unsubscribes
2. Verifies explicit consent as required by GDPR and other data and privacy regulations
3. Improves deliverability and sender reputation by ensuring valid and active email addresses
Did You Know? Although spam continues to decline, unwanted messages still arise, and even familiar senders may get false spam alerts if not using subscriber best practices.
"Respect your subscribers and build trust by giving them full control and only sending email messages that they have explicitly requested via double opt-in," said Outi Tuomaala, L-Soft Executive VP. "This ultimately benefits your sender reputation, subscriber relationships and, in turn, your communications and results."
Ensure subscribers' consent, even if not legally required:

Ask for explicit consent, don't assume it
State the purpose of your email list and deliver what you promise
Use confirmed opt-in/double opt-in to ensure subscribers actively confirm subscription requests
Tip: While it's not mandatory for all email communications, for example, a transactional email or a message in the context of an existing business relationship, it's a safer and better practice to ensure that recipients have confirmed they want to receive your communications. It doesn't cost you anything and helps you establish a positive relationship with customers and minimize the risk of complaints or unsubscribes.
The path to permission email:
2023: Double opt-in subscription confirmation remains the industry best practice for email groups, newsletters and email marketing communications
2018: The EU GDPR requires explicit and verifiable consent before sending email communications, ushering in new global data privacy laws and practices
1999: Seth Godin coins the term "Permission Marketing"1993: Email subscription confirmation/double opt-in is added to LISTSERV software, a first
1986: Eric Thomas invents LISTSERV, the first software to automate email list management, starting email group communication as we know it today
About L-Soft
L-Soft is the exclusive provider of LISTSERV® email list technology and the LISTSERV® Maestro email marketing platform for global digital communications. Organizations across all sectors rely on L-Soft's permission email solutions to manage email newsletters, announcement lists, discussion groups and email communities. Invented by L-Soft Founder and CEO Eric Thomas in 1986, LISTSERV pioneered automated email list management and remains the de facto industry standard.
L-Soft Press Contact
Susan Brown Faghani
1-301-731-0440, Ext 4
https://www.lsoft.com/contact/econtact.asp?id=pressinfo