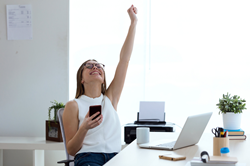 an estimated 93 percent of Americans have interview anxiety
DALLAS (PRWEB) March 20, 2023
The fear and anxiety of interviewing affects most of us. In fact, an estimated 93 percent of Americans have interview anxiety. The crippling thought of saying the wrong thing to an interviewer who can open the door to a dream job or just as quickly shut it can trip up even the strongest candidates. InterviewLynx, the career specific mock interview platform offers a range of services to help develop critical Interview and other professional skills. InterviewLynx is launching a promising crowdfunding campaign to support its development. To learn more visit http://www.backinterviewlynx.com today.
Interviewing is challenging for most and Ayodele Ojeshina, the Founder and CEO of InterviewLynx is no different. After spending years working toward his undergraduate degree as a marketing major, he finally faced graduation. Filled with excitement and optimism he began thinking about what life would be like outside of the classroom walls. He applied to countless jobs and went through the rigorous interview process time and time again, only to be rejected every time. That was until a year later when Ayodele finally landed his first job in his chosen career of marketing.
Although Ayodele was pleased with finally getting his foot in the door working for a large marketing agency, he thought there had to be a better way. He was highly talented, but his interview skills were less than impressive. He thought, what if I didn't have to try to navigate the interview process alone, and instead I could seek guidance from someone who has already walked the same path. This thought was the birth of InterviewLynx.
InterviewLynx is a mock interview platform designed to improve the interview skills of hard-working professionals, ultimately improving the likelihood of getting the job. Experts of any profession can conduct industry specific mock interviews for individuals attempting to break into their careers. At its core, InterviewLynx benefits individuals trying to step into a new career for the first time, but it doesn't stop there. InterviewLynx is a valued resource for anyone needing help with their interview skills, whether it's for a job promotion, college admittance, or any other potential interview scenario.
Mock interviews are conducted by tenured professionals of all industries. These freelance interviewers are carefully vetted to ensure quality. They set their own rates and availability giving them complete control of their earnings. They conduct mock interviews giving interviewees a realistic glimpse into the interview process. After, structured feedback highlighting strengths and areas that could be improved is shared. This process is proven to improve interview skills by reducing anxiety, boosting confidence, and having a clear strategy in approaching challenging interviews.
InterviewLynx is currently in development and is expected to gain early adopters in the Fall of 2023. While this platform is being designed to help millions of deserving and hard-working professionals, InterviewLynx needs your help. InterviewLynx is raising funds through a crowdfunding initiative to aide in the development of the platform and company. All donations are appreciated, as it helps us bring this service to market. We hope to gain your support today so we can help hardworking professionals land their dream jobs in the future.
To contribute to this project please go to http://www.backinterviewlynx.com today!