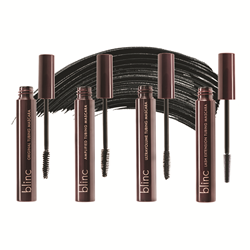 We understand that "one size does not fit all" when it comes to lash types and desired looks
BOCA RATON, Fla. (PRWEB) March 20, 2023
Blinc Inc. revolutionized the beauty industry with their groundbreaking tubing mascara over three decades ago, and to this day, they remain at the forefront of tubing technology. While other brands have since entered the market, Blinc continues to hold the crown as the original, most sustainable, and trusted tubing mascara brand. It's no wonder they've been a cult favorite at Sephora for years.
Blinc's 4th Tubing Mascara is named Lash Extension Tubing Mascara and is Vegan, Clean and infused with lash treatment ingredients like Biotin, Castor Oil and Shea Butter. Blinc's Tubing mascaras coats each individual lash, instead of painting them like traditional mascaras while treating lashes as well. Their innovative formulas provide superior, smudge-proof, flake-proof, run-proof and ultra-longlasting hold that no other mascara can match, even if you sweat, cry, rub your eyes or have oily skin. This makes Blinc tubing mascaras ideal for sensitive eyes, contact lens wearers, and active people in search of a mascara whose look, hold, and ease of removal is without compromise.
With the recent surge of new companies launching their first tubing mascara, Blinc is the only brand with four tubing mascaras. We understand that "one size does not fit all" when it comes to lash types and desired looks, says Katherine Garcia - Marketing Director, which is why we offer several tubing mascara versions to cater to different needs and preferences. To help you find your perfect tubing mascara, Blinc has developed this 15-second QUIZ.
Blinc's Tubing Mascara formulas include:

Blinc remains committed to providing the highest quality tubing mascaras on the market, and they are thrilled to continue their legacy as the pioneers of tubing technology. Each blinc tubing mascara is a testament to Blinc's dedication of constantly raising the bar on tubing technology innovation as it concerns ingredients, sustainability, appearance, hold and ease of removal. Because you lead a busy life and don't have time for smudging.
You can purchase Blinc's Tubing Mascara Collection by visiting Sephora, Amazon or Blinc's Website.