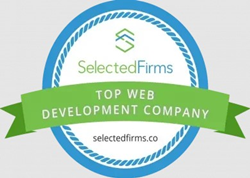 Glorify your online game with cutting-edge Website Development Companies. Let the champions of the field deliver unparalleled results.
MIRAMAR, Fla. (PRWEB) March 31, 2023
SelectedFirms, a leading B2B research and rating agency, has released its highly anticipated list of Top Website Development Companies in the United States. This report recognizes the best companies for web development that have demonstrated excellence in delivering cutting-edge web solutions to clients across various industries.
With the digital world evolving rapidly, it is essential for businesses to have a robust online presence, and for that, they need reliable and top web development companies. Therefore, the selected agencies in the list have been carefully evaluated based on their expertise, experience, client feedback, market presence, and portfolio quality.
The 2023 edition of the list features the best website development companies in the USA, including some of the most prominent names in the industry. These companies are known for their exceptional website design, development, and maintenance skills using various technologies such as Symfony, WordPress, Drupal, and many more.
According to SelectedFirms, "We are delighted to present our list of Top Website Development Companies in the United States. The companies on this list have proven their mettle in the highly competitive web development industry, and we are proud to recognize their outstanding achievements."
SelectedFirms' comprehensive research process ensures that only the best companies are selected, making it easier for businesses to find the right partner for their web development needs. In addition, the list is valuable for businesses looking to develop a new website or revamp their existing one.
The list of the top website development companies in the United States are:
Magneto IT Solutions
Magneto is a team of digital commerce experts who work with manufacturers, wholesalers, and retailers across the globe to turn ideas into one-of-a-kind customer and content-centric experiences. With their platform-agnostic approach, they have been providing innovative solutions and managing delivery since 2010. As a result, they accelerate the speed at which leading B2B, B2C, D2C, and marketplace brands can scale their online offerings flexibly. Whether building an e-commerce store from scratch or enhancing an existing one, Magneto can help you achieve your business goals with their E-Commerce development services.
Promatics Technologies
Promatics Technologies specializes in creating and providing top-of-the-line e-commerce websites with advanced features. Their adept team of E-commerce developers comprises consultants, analysts, Magento-certified developers, and proficient testers. Additionally, the company prides itself on its proficiency in Prestashop, Shopify, WooCommerce, Bigcommerce, and Volusion. Established in 2008, the company is headquartered in India and operates in Australia.
Intersog
Intersog is a global IT staffing and web development company that leverages cutting-edge technologies and the best talent to propel businesses toward success. With a strong presence in the United States, Canada, Mexico, Ukraine, and Israel, their team of 250+ IT experts has executed over 1,300 projects for European and American clients. Their unparalleled professionalism and unwavering commitment to providing top-notch technology and staffing solutions have earned them a reputation as a trusted partner for businesses worldwide.
Softermii
Softermii is a product development company that prides itself on crafting innovative software solutions tailored to your unique business goals. With a focus on quality over quantity, their team collaborates closely with you to bring your ideas to life. Their flexible cooperation models and commitment to cost-effectiveness make them the go-to partner for companies looking to streamline their development process without sacrificing quality. With their 24/7 availability and deep technical expertise, you can trust Softermii to deliver cutting-edge software solutions that exceed your expectations.
ScienceSoft
With a laser focus on web development for over two decades, ScienceSoft has crafted over 1,900 triumphant web projects for over 30 industries. As a leading web development agency in the USA, ScienceSoft offers a range of professional web services that aim to reduce web page loading time to an impressive 0.2 seconds, drive up conversions by a staggering 6x, and enhance user satisfaction to an impressive 97%.
TagDiv
TagDiv is the trailblazing WordPress development and web design software company that harnesses cutting-edge technologies, including PHP development, Open-source web and WordPress development, JavaScript development, Bootstrap, Vue.js, iOS, and Android app, to craft stunning and high-performing websites. With over 10 years of excellence and trust garnered from 150,000 satisfied clients globally, tagDiv is the leading premium news author on Envato's ThemeForest market, elevating the digital experience for modern businesses.
ThinkPalm
With a decade of experience, ThinkPalm is a leading software development company, providing end-to-end product engineering solutions in the Enterprise, IoT, and Telecom industries. Their diverse expertise and holistic approach enable them to deliver innovative bespoke software solutions that help businesses achieve their corporate goals and deliver exceptional customer experiences. In addition, their expertise in project management and custom software development has helped them establish themselves as a reliable partner for emerging and established businesses alike.
Orases
Orases is a cutting-edge web development company headquartered in the USA that crafts customized and dynamic websites for all types of businesses. They are a team of software enthusiasts who are passionate about providing top-notch websites and apps using the latest technologies and proven methodologies to help businesses from various industries achieve their highest goals. With more than 20 years of experience, Orases has assisted hundreds of businesses in developing game-changing software that delivers an exceptional user experience.
SelectedFirms' list of Top Website Development Companies in the United States is a testament to these agencies' hard work and dedication. It is a must-read for anyone looking for the best website development services.
About SelectedFirms
SelectedFirms is the go-to B2B research and review platform for businesses seeking top-notch service providers in their industry. Our platform boasts an extensive evaluation and research process to identify the best-performing companies across various fields, including eCommerce development, web development, mobile app development, digital marketing, and more. We aim to empower businesses with the knowledge they need to make informed decisions and find the perfect service provider to meet their unique requirements.