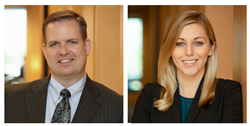 Matt and Caitlin have proven themselves to be exceptional attorneys and are both fully deserving of the opportunity to fulfill broader leadership roles with the firm.
SAN DIEGO (PRWEB) January 05, 2023
Pettit Kohn Ingrassia Lutz & Dolin PC, a leading trial and civil litigation firm, is pleased to announce that Matthew C. Smith and Caitlin M. Jones have been promoted to Shareholders. Both Matthew and Caitlin continue the tradition of superior client service, legal professionalism, and litigation management that are hallmarks of Pettit Kohn.
Matthew C. Smith, Esq. is a Shareholder in the firm's San Diego, California office and has over 20 years of experience defending a wide variety of civil cases in state and federal courts. Mr. Smith joined Pettit Kohn in 2013 and is a consistent and diligent leader in the firm's Business Litigation, Professional Liability, and Community Association practice groups, representing individuals, attorneys, law firms, business clients, and community associations in a variety of complex litigation matters. He has significant experience in all aspects of civil litigation, including trials, arbitrations, and mediations and has served as lead and co-counsel in more than a dozen trials and arbitrations. He is also a speaker on issues including professional ethics in litigation and legal best practices. Mr. Smith has achieved an AV Preeminent rating from Martindale-Hubbell, the highest rating for legal ability, high ethical standards, and professional excellence and has been selected for inclusion in the San Diego Super Lawyers® list. In addition, he has been recognized by Best Lawyers in America© for his work in Commercial Litigation. Mr. Smith earned his Juris Doctor from Washington & Lee School of Law and his Bachelor of Arts degree from the University of Washington.
Caitlin M. Jones, Esq. is a Shareholder in the firm's San Diego, California office and is an experienced trial and litigation attorney who focuses her practice on professional liability and complex business and commercial litigation. Ms. Jones joined Pettit Kohn in 2018 and has handled a broad range of lawsuits representing individuals, attorneys, law firms, and business clients in state and federal courts. She is skilled in all aspects of litigation and has an outstanding record of successful resolutions in defending professional malpractice cases. In addition, Ms. Jones speaks on issues related to the Rules of Professional Conduct and attorney ethics and has been recognized in Best Lawyers: Ones to Watch for her work in Professional Malpractice Law in 2021 - 2023. Ms. Jones earned her Juris Doctor from George Washington University School of Law and her Bachelor of Arts degree from the University of Michigan.
"Matt and Caitlin have proven themselves to be exceptional attorneys and are both fully deserving of the opportunity to fulfill broader leadership roles with the firm," said Doug Pettit, Chair of the Professional Liability practice group and one of the firm's founding Shareholders. "They demonstrate consistent hard work and focus on delivering outstanding service and protecting the interests of our clients. We congratulate Matt and Caitlin as they step into their new leadership roles and look forward to their contributions to our firm and its clients."
About Pettit Kohn Ingrassia Lutz & Dolin
Pettit Kohn Ingrassia Lutz & Dolin PC is a leading AV-rated trial firm with expertise in litigating and resolving civil matters in both state and federal courts. The firm represents clients in the areas of Appellate, Business Litigation, Community Association Litigation, Employment & Labor, Personal Injury, Product Liability, Professional Liability, Real Estate Litigation, Restaurant & Hospitality, Retail, Transactional & Business Services, Transportation, and Trial & Civil Litigation. Clients include large and mid-sized corporations, privately held businesses, institutions, and individuals. Pettit Kohn is located in California and Arizona with offices in San Diego, Los Angeles, Phoenix, and Tucson. Learn more about Pettit Kohn at: http://www.pettitkohn.com