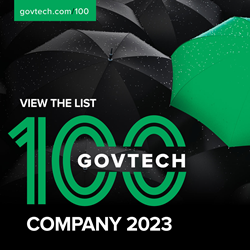 "Our mission is to close the divide between government and commercial constituent and employee experience, and our continued presence on the GovTech 100 list only underscores the criticality of our mission and the success our customers are achieving on the SimpliGov platform."
SACRAMENTO, Calif. (PRWEB) January 04, 2023
SimpliGov, the leader in government workflow automation, is proud to announce that it has been named a GovTech 100 company for 2023. This is the third year in a row that SimpliGov has been named to this prestigious list, which is compiled by e.Republic's Government Technology team.
SimpliGov not only made it easier for agencies nationwide to quickly deliver digital services in 2022, its unmatched platform capability also enabled government to run more efficiently by automating administrative business processes across both constituent-facing and internal, administrative use cases.
States, counties, and cities alike continue to turn to SimpliGov's no-code, integrated digital forms, workflow automation, and eSignature (SimpliSign) solution to deliver digital services, including DMV renewals, health and human services child support applications, and Secretary of State trademark filings. Governments also continue to build an increasing number of administrative use cases on the SimpliGov platform, such as executive document review and tracking (a.k.a. "Red Folder"), employee on/offboarding, and requests for personnel action (RPA). The ability to leverage SimpliGov's included SimpliSign eSignature solution across all use cases and independently also creates unmatched value and utility for governments of any scale.
"We take pride in partnering with our customers and being an essential part of the government digital transformation toolkit that can scale with changing global conditions and workforce and constituent needs," said Gary Leikin, CEO of SimpliGov. "Our mission is to close the divide between government and commercial constituent and employee experience, and our continued presence on the GovTech 100 list only underscores the criticality of our mission and the success our customers are achieving on the SimpliGov platform."
SimpliGov continues to quickly expand its customer base nationwide across state and local government, and the company has received numerous industry awards in addition to being named to the GovTech100 annually.
The GovTech 100 can be found at http://www.govtech.com/100.
About Us:
SimpliGov is the leading government workflow automation, secure digital forms and electronic signature platform. SimpliGov empowers state and local governments to automate manual, repetitive workflows, accelerate and optimize business processes, and improve experiences for both employees and constituents. SimpliGov easily integrates with existing system infrastructure, and the no-code intuitive platform includes SimpliSign, the e-signature solution that's purpose-built for the government from SimpliGov.