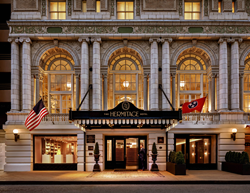 "We're excited to welcome guests home to the unique experiences and warm Southern hospitality of The Hermitage Hotel," said owners Robert and Molly Hardie.
NASHVILLE, Tenn. (PRWEB) January 04, 2023
Following the completion of its multi-year restoration and redesign, The Hermitage Hotel, Nashville's celebrated gathering place for more than 110 years, has unveiled a collection of exclusive new guest experiences designed to bring the character, culture, history and excitement of Nashville alive for hotel guests. Whether it's indulging in retail therapy on the ultimate friends getaway, celebrating a passion for flowers with a private tour of an estate garden, watching a professional sports game or headlining band from a private luxury suite on the 40-yard line, kicking back with a rare vintage guitar, or putting feelings to song with the help of a pro, guests enjoying The Hermitage Hotel's artfully crafted, customizable, new experiences will create unforgettable memories of their Nashville visit.
"As stewards of The Hermitage Hotel, it's been our honor and privilege to polish the jewel and usher in a new era for Nashville's original luxury hotel," said owners Robert and Molly Hardie. "Complementing the restoration, redesigned guest rooms and two new restaurants is our collection of new opportunities for exploration and discovery in Nashville. We're excited to welcome guests home to the unique experiences and warm Southern hospitality of The Hermitage Hotel."
"As an intimate and independent hotel, we are in a unique position to make the extraordinary happen for our guests," said Dee Patel, Managing Director, The Hermitage Hotel. "We're fortunate to work with partners throughout Nashville to offer special access to iconic venues and unique experiences within the hotel. Guests of The Hermitage Hotel will be exposed to a Nashville that can't be discovered elsewhere."
Available through a dedicated Reservationist, each experience can be tailored to each guests' individual needs and preferences.
The Hermitage Hotel's New Guest Experiences Include:
Girls Getaway with Draper James
The Hermitage Hotel has partnered with Draper James, the spirited lifestyle brand from Nashvillian Reese Witherspoon, to offer a new friends getaway. Shopping, dining, and sightseeing are all on the menu, along with the ultimate photo-friendly memento: matching Draper James pajama sets for everyone in the group. Guests will be pampered with a private shopping experience at Draper James' flagship store in Nashville's stylish 12 South neighborhood. Private shopping parties can be arranged – accompanied by coffee, gourmet donuts, and mimosas – or after hours, with champagne and chocolates. Guests will complete their Nashville trip like true locals and indulge in "Spillin' Tea with Draper James" Afternoon Tea Service at The Hermitage Hotel – the perfect moment to savor time together and naturally, to spill the tea! The experience includes:

Draper James pajama set for each guest in the party group (styles may vary; sizing to be coordinated through Reservations)
Private VIP shopping experience at Draper James
Afternoon Tea at The Hermitage Hotel
Complimentary valet parking at The Hermitage Hotel 
Cheekwood Oasis Private Tour
Guests of The Hermitage Hotel can enjoy a private tour of Cheekwood Estate & Gardens customized to their interests for an unforgettable immersion into a verdant paradise just 15 minutes from downtown Nashville. Once the family home of Mabel and Leslie Cheek, the historic 1930s estate now serves the public as a botanical garden, arboretum, and museum. With its extraordinary mansion, 55 acres of themed gardens and expansive vistas, Cheekwood invites guests of The Hermitage Hotel to embark on a private tour with one of the property's garden curators. Unforgettable inspiration for any lover of garden design, history or the scenic beauty of the region, the Cheekwood Oasis Tour includes: 

Private guided tour of Cheekwood Estate & Gardens, customized to the guest's interests
Concierge welcome and front-of-line access at Cheekwood
Two Cheekwood water bottles
VIP Parking at Cheekwood + complimentary valet parking at The Hermitage Hotel 
Two weeks advance notice is requested.
Suite Game-Day Experience
Location is everything, especially at the big game or that once-in-a-lifetime concert. The Hermitage Hotel's Suite Game-Day experience includes access to an exclusive luxury box on the 40-yard line of Nashville's renowned stadium and concert venue. Guests will enjoy two box seats in The Hermitage Hotel's private suite at the stadium, refreshments upon arrival, and food and beverage during the game. For the ultimate spectator experience, a full buyout of the 18-suite is available and includes deluxe accommodations in the hotel's redesigned suites, complimentary parking, and breakfast for two. Top performers coming to Nashville in 2023 include Taylor Swift, Luke Combs, Ed Sheeran, George Strait, and Billy Joel.
Vintage Guitar Connoisseur Experience
One of the world's leading purveyors of rare vintage and collectible guitars and handcrafted instruments from renowned luthiers, Nashville's Carter Vintage Exchange is making its rare inventory available for guests booking The Hermitage Hotel's premier suite – The Hermitage Suite. The ultimate opportunity for guitar aficionados, collectors seeking their next acquisition or VIP guests looking to unwind in their suite with an exceptional guitar, this experience will be tailored to each guest based on their playing style and interest. Upon arrival, the guitar will be hand-delivered to The Hermitage Suite for the guest's personal use, compliments of Carter Vintage Exchange. Private after-hours shopping at Carter Vintage Exchange's Nashville showroom will also be available for guests seeking to explore the extraordinary collection.
The in-suite guitar service and private shopping appointments will be made by booking at least seven days in advance with The Hermitage Hotel's Reservations team.
Start Big with The Studio Experience
Guests are invited to bring their music visions to life with The Studio Experience by The Hermitage Hotel. Team up with world-renowned songwriters and musicians to create a one-of-a-kind studio track with a private session in one of Nashville's premier recording studios. From creating a song from scratch, to refining a prior piece or taking a song all the way to production and recording, this experience will help put lyrics to song for a truly one-of-a-kind Nashville experience.
More information about The Hermitage Hotel's new guest experiences is available here: https://www.thehermitagehotel.com/experiences/. For questions or to make a reservation, visit https://www.thehermitagehotel.com or call 615-244-3121. Follow the hotel on Instagram and Facebook.
# # #
About The Hermitage Hotel
Set in the heart of Downtown Nashville, The Hermitage Hotel is a timeless icon of best-in-class accommodations, service, dining and warm Southern hospitality. Originally opened in 1910, the privately owned and operated hotel has stood as Nashville's premier luxury property for more than 110 years. In 2022, the hotel completed a multi-year redesign and revitalization of its 122 oversized guest rooms, suites and public spaces, alongside a restoration of its distinctive Beaux Arts architecture. The Hermitage Hotel is home to two new restaurants from Michelin-starred chef Jean-Georges Vongerichten, marking his first presence in the American South. "Meet me at the Hermitage" has long been a phrase familiar to Nashvillians, who gather and socialize under the historic stained-glass ceiling in the hotel's famous lobby and in the grand ballroom, adorned with Circassian walnut paneling. Recognized as a National Historic Landmark, the hotel and has been honored by the Historic Hotels of America for its continued excellence. For reservations and additional information, please call 615-244-3121 or visit TheHermitageHotel.com.
Media Contacts:
Murphy O'Brien, Inc.
Camille Phillips | 949-742-1389
Chloe Bulbin | 516.592.0641
hermitagehotel@murphyobrien.com