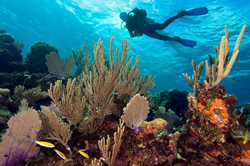 NEW YORK (PRWEB) January 04, 2023
When it comes to traveling in 2023, an increasing number of Americans are predicted to prioritize authentic, purpose-driven travel experiences as a top resolution in the new year. Whether seeking to become a more sustainable sightseer or set on discovering a new destination, Honduras, a country with diverse landscapes and ecosystems, invites visitors to bid farewell to 2022 with the top five reasons this vibrant Central American country should be on travelers' bucket lists in 2023 and beyond.
Dive the Largest Coral Reef in the Americas
For travelers seeking underwater adventures, Honduras offers plenty of opportunities as home to the largest coral reef in the Americas. The vibrant Mesoamerican Barrier Reef hugs the Bay Islands just off the mainland with 700 miles of colorful corals and more than 500 species of fish. The three most famous dive spots in the Bay Islands – Utila, Roatán and Guanaja archipelagos –entice scuba divers and snorkelers of all skill levels thanks to the spectacular reef and its close proximity to shore. Many lodges and resorts like Barefoot Cay and Turquoise Bay have on-site dive shops, and plenty of independent businesses dotting the islands offer guided snorkel tours by boat and self-guided explorations from shore. A haven for hardcore divers, Utila, the smallest of the Bay Islands is known as one of the safest and least expensive places in the world to get PADI diving licenses of all levels. The island boasts more than 80 dive sites, with whale shark sightings frequent from March to April and again in September.
Float Back and Relax in Natural Hot Springs
For travelers seeking a serene and tranquil escape with health and wellness in mind, Honduras' relaxing hot springs are the perfect way to soak away the stress in naturally heated mineral baths surrounded by the destination's lush natural beauty. Near Copán, travelers can visit Luna Jaguar Spa, a Mayan-influenced eco-spa dedicated to physical and mental wellbeing. Nestled in the middle of the jungle, Sambo Creek Hot Springs is a natural wonder that starts hottest at the top, gradually mixing with cool water as the pools progress down the mountain. Visitors are treated to floating fresh fruit trays in the lower pool and massage huts are also available.
Explore One of the Most Significant Ancient Mayan Sites
For history and culture enthusiasts yearning to discover archeological treasures, Copán Ruins, located in western Honduras near the Guatemalan border, is home to one of the most influential cities of the ancient Mayan world. At Copán Archeological Park, a UNESCO World Heritage site, visitors can explore some of the best sites of Mayan civilization still in existence. Major areas of interest include The Acropolis, built as an elaborate gateway to the underworld during the reign of Copán's last ruler, Yax-Pac; The Great Plaza, known for its intricate altars; the Sun Plaza, showcasing 3D carved stellae perfectly positioned in direct relation to the stars above – and the Hieroglyphic Stairway, which contains the longest known text of ancient Mayan civilization. The site also features underground tunnels accessible to visitors and an impressive sculpture museum housing some of the ruins' original structures, including a full-size replica of the Rosalila Temple, the only temple found with its original colors intact.
Catch a Buzz on Coffee Culture
As the largest coffee producer in Central America and the fifth largest globally, Honduras takes its coffee and coffee culture very seriously – making it an ideal destination for the rising number of travelers seeking to feed their coffee curiosity next year. Most baristas in the country are also growers, which results in an exceptional bean to cup experience. Producing high quality beans is the main priority for Honduran coffee farmers, allowing visitors to sample coffee they may never find in North America. The majority of the country's coffee is produced in the western region including areas near Copán Ruins – where many Arabica varieties such as bourbon, caturra, typica, catuai, and pacas are grown. Coffee farms like Finca Santa Isabel, home of the Welchez coffee brand, offer educational tours that guide participants through the coffee making journey.
Take Part in Sustainable Tourism Initiatives
For travelers looking to lessen their carbon footprint and make sustainability a focus in 2023, Honduras' exceptional biodiversity and longstanding commitment to responsible tourism attracts eco-conscious visitors around the world, with many conservation initiatives in which visitors can participate. SCUBA-certified sightseers to Roatán are invited to take part in the Coral Restoration Program at Roatán Marine Park, a community-based non-profit organization dedicated to the conservation of Honduras' marine and coastal ecosystems. Macaw Mountain, a bird rescue, rehabilitation, and release center in Copán, offers visitors the chance to learn more about the scarlet macaw, Honduras' national bird, which has become endangered due to the illegal wildlife trade. Visitors to the aviary can observe more than 200 birds up close – and spot free-flying scarlet macaws above the park and throughout a 335 square-mile area known as "The Sacred Valley of the Scarlet Macaw." With its mission to spread awareness, Tele Marine – located in Atlántida on Honduras' northern Caribbean coast – is the only free public aquarium in Central America, inviting travelers to learn more about the spectacular coral reefs of Tele, while enjoying its thematic restaurant, dive center, and research facilities, all open to the public.
###
About Honduras
Located in the heart of Central America, Honduras is a destination rich in biodiversity as home to a diverse array of ecosystems including dense rainforests, towering cloud forests, rushing rivers, and the largest coral reef in the Americas. This landscape provides the setting for boundless outdoor and adventure activities including whitewater rafting, waterfall repelling, birdwatching, SCUBA diving, snorkeling and more. Honduras was an important center of the ancient Mayan world, and archaeologists and history buffs are drawn to the Copán Ruins, a UNESCO World Heritage site located near the country's western border with Guatemala.
Four major airports serve Honduras in San Pedro Sula, La Ceiba, Roatán, and the capital city of Tegucigalpa, where the new and modern Palmerola International Airport, located in the city of Comayagua, recently debuted in 2021. Direct air service from the United States is available on major carriers from New York City, Miami, Fort Lauderdale, Houston, Atlanta, and Dallas.
For more information on Honduras, please visit http://www.honduras.travel/en.
Media Contact:
Jennifer Jackson
PTG Consulting
jjackson@ptgconsulting.com
Tel: +1 904 535 7167