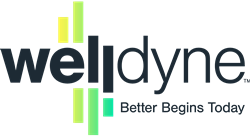 LAKELAND, Fla. (PRWEB) January 04, 2023
WellDyne, a mid-market leader in pharmacy benefits management and outsourced pharmacy solutions for healthcare organizations, today announced Stephen Saft as the company's new CEO. A highly accomplished healthcare executive, Steve is known for his consistent record of leading critical initiatives and his success in driving business strategy to desired results. With more than 20 years of healthcare experience, Steve brings to the role broad general management, strategic planning, operations, and financial management expertise.
"We are excited to elevate Steve as WellDyne CEO," says William McMullan, WellDyne Board Member. "Over the years, Steve's close collaboration with leadership has enabled WellDyne to deliver lower costs for PBM customers while maintaining exceptional service. As a result, WellDyne is well positioned in the new era of medication therapy distribution with an emphasis on consumer technology and patient care, as well as outsourced pharmacy solutions through its HealthDyne offerings."
A full-service, independent pharmacy benefit manager, WellDyne has been nationally recognized for its care management programs, specialty pharmacy service and specialty patient care. "During recent months, the Office of the President including Mike Amiet, Brian Laird, David Skomo and myself aligned with the entire WellDyne leadership team on many strategic decisions," says Steve. "This excellent working relationship will continue as we move forward with this new structure. The passion, vision and expertise that we all share will drive the organization to deliver new impact and advance progress."
Steve adds that the WellDyne leadership team is committed to competitive pricing and a unique return on investment approach, supported by best-in-class clinical programs and technology. "Through HealthDyne, we are working to become the industry leader for digital pharmacy outsourcing and related solutions with the ability to support and service traditional and disruptive healthcare providers, manufacturers and health plans," he says. "Both WellDyne and HealthDyne are well positioned to leverage decades of expertise on behalf of clients."
About WellDyne
For 30+ years, WellDyne has leveraged its deep clinical expertise to achieve better outcomes and reduce pharmacy trend. Knowing that medications are among the safest, easiest and lowest cost treatments to help people live their best lives – WellDyne believes a smarter approach to the delivery of PBM services unleashes the full power of medications to reduce future healthcare costs. Read more at https://www.welldyne.com.
About HealthDyne
Serving as the behind-the-scenes pharmacy partner for some of the biggest names in healthcare, HealthDyne works with all types of healthcare organizations to empower better patient care for their customers. In addition to medication distribution services, the company provides a wraparound set of clinical, technological, and patient-centered modules to empower client capabilities. The company leverages multiple state-of-the-art pharmacies owned by its operating partner, WellDyne, to distribute medication therapies to patients across the country. Read more at https://www.healthdyne.com.